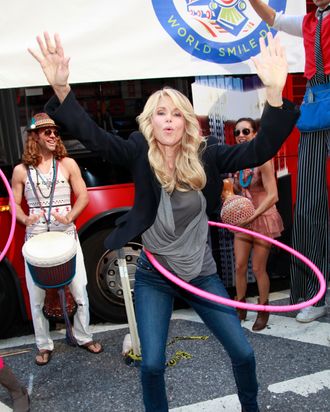 Photo: Charles Eshelman/FilmMagic
Yesterday, the Post printed part of an e-mail from 17-year-old Jack Brinkley-Cook, which read: "My mom [Christie Brinkley] is not and has never been 'obsessed' with either my father's wife [Suzanne Shaw], nor my father [Peter Cook] or their relationship." And, he added, "there have been many instances where I have heard my father's wife mention my mother." Today, the Post ran a message from Shaw, who wrote: "I am in Indonesia truly mourning the recent passing of my mother, not doing hoopla-hoops for the cameras as Christie is," referring to Brinkley's Hula-Hooping on World Smile Day.
Shaw went on, "It is no secret Christie wants to be in the spotlight at any cost … I think we can all agree, she has thoroughly punished Peter far beyond his … infidelity of six years ago for which he remains irrevocably sorry. Once and for all, it is time to move on!" But, before we do, question: Does the Post have separate in-box folders for Shaw, Brinkley, and Miscellaneous Family Members? Just one folder? A filter, maybe? I can never get to Inbox Zero, or whatever, and I'm looking for some organizational tips.