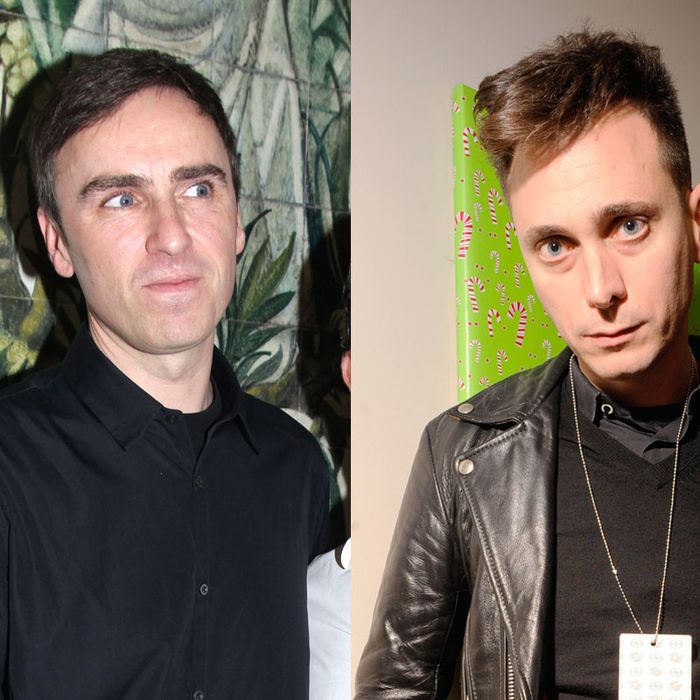 Raf Simons and Hedi Slimane.
Photo: Getty Images, Corbis
Paris Fashion Week began with what many deemed a "face-off" between designers Hedi Slimane and Raf Simons, both of whom were showing their first-ever ready-to-wear collections for Saint Laurent and Dior, respectively. At first, their purported rivalry seemed more like a dubious conflict ginned up by the fashion press — we're always hungering for extra drama, after all — but as the week unfolded and the reviews came in, the comparisons came into sharper focus. While no critics directly pitted the two shows against each other, Slimane tweeted his opinion that the Times's Cathy Horyn had given Dior preferential treatment. However, she wasn't the only journalist who had some misgivings about his collection. Here's a roundup of major critics' quotes for both shows; see how the two designers stacked up against each other.
Suzy Menkes, the IHT
On Saint Laurent: "Mr. Slimane's own heritage appeared in the ultra-skinny pants worn with spencer, or cropped, jackets. Floor-sweeping dresses seemed less certain. They gave a hippie de luxe (but not quite luxurious enough) effect to the collection, except for one perfect evening gown with cascading frills… Alternatives to pants were awkward: a coat dress undulating across the thighs at the front and sweeping the floor at the back… Perhaps Mr. Slimane can use the YSL codes next season to move forward from homage to something more dynamic.
On Dior: "His Dior show for summer 2013 was a triumph of 21st-century modernism, with all the codes of purity and simplicity challenged…Apart from the excellence of the different concepts and the way that they were respectful of women's bodies and independent attitudes, this was one of the best regenerations of the spirit of a heritage brand seen on the runway since Karl Lagerfeld first reinterpreted Chanel almost 30 years ago."
Tim Blanks, Style.com
On Saint Laurent: "Post-show, Betty Catroux, longtime muse to Yves himself, was delirious with delight, proclaiming Slimane the savior for all womankind. But a reality check suggested something less grandiose, more in tune with the way Slimane has been spending his time since he left fashion five years ago. In the City of Angels, to be precise… But it felt like the real mood of the collection was dictated by Slimane's L.A. sojourn… A bizarre way to stake a claim to one of fashion's most unimpeachable legacies, maybe, but it felt perfectly in tune with what one could legitimately claim to be Slimane's California obsession."
On Dior: "It's been impossible to ignore the media-fanned flames of the Raf-Hedi face-off that this week has generated. Simons managed to make his tux jacket-dress both a riposte to the YSL rivalry and a manifesto for himself… His full-skirted finale—the severe black silk-cashmere knit top, the erotic, iridescent balloon of floral-printed satin duchesse—distilled history into a special kind of twenty-first-century glamour."
Vogue.com
On Saint Laurent, by Sarah Mower: "Slimane's top-secret thought processes were finally revealed to the pounding of a heavy-rock riff: not (as some had wagered) a brutalist severing with the past, but what amounted to a surprisingly respectful rebooting of everything Saint Laurent did for hippie rock chicks in the seventies… As a whole? Slimane's debut as a womenswear designer shone an unexpected light on him, not as a raging rebel, but as someone who declares himself, first and foremost, loyal to the house's founding principles."
 On Dior, by Hamish Bowles: "It was fascinating to see Simons's continued evolution at the House, this time around with more time to study and refine the codes established by Dior himself, and he rose quietly and elegantly to the challenge of reinterpreting Dior's bravura signatures, such as those dramatic seasonal changes of "line," the refinement and sophistication of technique (some of them Victorian revivals), and the lavish fabrications and embellishments—in a way that remains potent and enticing for a twenty-first-century woman."
Cathy Horyn, the Times
On Saint Laurent: "…the collection was a nice but frozen vision of a bohemian chick at the Chateau Marmont. Or in St. Tropez. Mr. Slimane's clothes lacked a new fashion spirit. Indeed, it was as though he refused to interpret the YSL style, beyond updating proportions. Even the colors seemed flat, suppressed. Of course, in the past two decades, a host of designers and vintage-minded stylists have successfully traded on the look… Considering that Mr. Slimane was an avatar of youthful style, I expected more from this debut. I had the impression from the clothes of someone disconnected from fashion of the past several years. If so, that might be an interesting perspective. But there wasn't something new to learn here."
On Dior: "…Raf Simons has shown that he's more than a creative director. He's a decorator, an architect and a definitive tastemaker… Mr. Simons played with some of Christian Dior's famous silhouettes: the A line and the H line, and of course the Bar jacket. But the impression throughout the show was of something sharply new."
Lisa Armstrong, the Telegraph:
On Saint Laurent: "…what was most suprising was that it was so unsurprising. It was exactly as expected: lots of masculine/feminine trouser suits, some beautiful wafty dresses and poet's blouses (most of which we've seen before on Kate Moss and Stevie Nicks, although perhaps not always in quite such luxe fabrications) and a cool soundtrack, edited for the show by Daft Punk. Crucially, what was lacking was the frisson of the unexpected - that challenging jolt that only a really strong show delivers."
On Dior: "It was fun and sensuous and also elegant and extremely desirable. A year ago everyone said that resurrecting Dior was an impossible task. Now it looks imminently feasible. That was Simons' biggest achievement today."
Vanessa Friedman, the FT:
On Saint Laurent: "…the collection ultimately felt more like a throat clearing – ahem! Get the YSL tropes out for the loyalists – than a new signature. This gave the clothes a vintage air, though Saint Laurent-the-first was nothing if not resolutely modern. It's a paradox. Let's see how Slimane resolves it."
On Dior: "… series of rose print duchesse ball skirts were teamed with very thin black silk cashmere leotard tops… The latter is a look Simons has shown before, which doesn't make it any less appealing. Still, maybe next season he'll have another idea. And if things went a bit wobbly in the middle (which they did) with fluorescent sheeny trapeze dresses that were more luridly disco than subversively demure, as a whole the collection felt relevant, a meaningful achievement for a couture house these recessionary days, when the point of the aesthetic form is perennially called into question."
WWD:
On Saint Laurent: "Cool fest alert? Did Slimane offer a new, stunning prescription for edgy chic funneled through the Saint Laurent lexicon? Not even close. Rather, he filtered sweet homage through an L.A., rock-loving lens (or possibly, a pitch to dress some of Rachel Zoe's skinniest clients). It was interesting to the point of odd.
On Dior: "… Simons blew past expectations. In 14 dazzling minutes (albeit with lots of intense work prior), he thrust Dior into a place it hasn't been in some time, a place where clothes count as more than glossy foils around which to explode cash-cow accessories and beauty businesses. This collection pulsed with that Holy-Grail fusion of currency and cool."
Related: The Dubious Rivalry Between Raf Simons and Hedi Slimane: An Examination