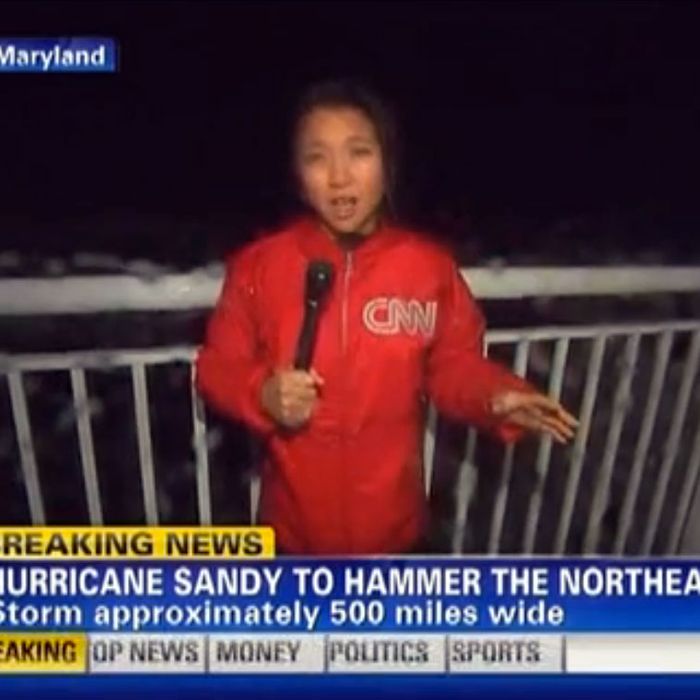 A fearless crew of weather-obsessed meteorologists and storm chasers have been reporting live from Sandy's rainy fury. At this point, they've been slapped in the face with wet leaves, 70 mph winds, and sea foam, and, of course, pummeled with millions of raindrops. To repair hair that's trapped under sopping news-station logo caps and skin that's been battered with wind and rain, some product recommendations for when the storm has passed.
Fresh Cream Ancienne Eye Cream ($95): This potent, thick cream fights dark circles and puffiness caused by all-night reporting. The formula is based on ingredients that were once used to heal ancient gladiators' wounds, so it's strong enough for Sandy. It's also water-resistant, in case of last-minute live-shot requests.
Boscia Detoxifying Black Cleanser ($28): After coming in from the cold and wet rain, correspondents will appreciate the gentle warming sensation this cleanser delivers. One of the main ingredients is charcoal, which draws out airborne dirt to clear clogged pores.
Egyptian Magic All-Purpose Skin Cream ($37): This oil-based balm has been around for over twenty years and is still trusted for any rash or dry-skin symptoms. It's so gentle that vets use it on post-op pets, so weathermen can slather it on their reddened faces for quick relief.
Ouidad Double Detangler ($24): Built for people with the curliest of hair, this double comb will gently undo any knots caused by gale-force winds.
John Frieda Daily Nourishing Leave-in Conditioning Spray ($5.99): Used in conjunction with a comb, this hydrating mist will release the most tangled messes, while also encasing hair in vitamins E, C, and A to protect it from further wind damage.