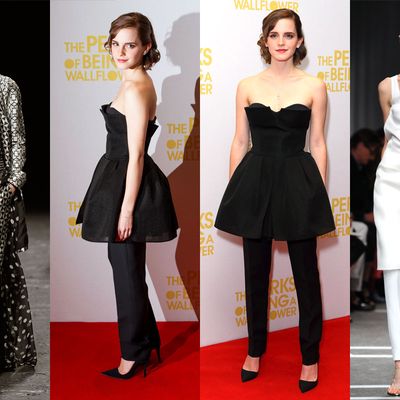 After dresses styled over pants started appearing on red carpets and spring runways, the Cut broke into debate: Is this look flattering? Practical? Attractive? Here is our thought process; tell us yours in the comments.
Sally: So this originally came up because Emma Watson did the pants under a dress thing at a Perks of Being a Wallflower screening in London.  How does that make you FEEL?
Veronica: I FEEL like she's somehow more comfy in an otherwise dressy outfit. Maybe it's because I grew up in Seattle where it just isn't a good idea to be barelegged most of the time — it seems like an easy solution, matching pants under short dress.
Sally: But then why not pants and a blazer? Or tights? She looks dowdy.
Veronica: She's hitting masculine and feminine at the same time. Tights are the usual suspect with a dress, so the slight crease in that trouser, I think makes her look sharper.
Sally: Besides, isn't that just a peplum meant for a torso two-times the length of Emma's? 
Veronica: I would still call Emma's a skirt, though, because a peplum doesn't usually cover your bum.
Sally: Bum coverage. Now that is a good argument for pants-under-skirt. For example, today I am wearing a pair of pants where the zipper doesn't fully want to stay up or hidden, so I am wearing a longer shirt. Although jeans-under-dress makes me think of Britney Spears in the bad days.
Veronica: People spiral in jeans-under-dress. So, yeah, I don't endorse that.
Veronica: But trousers-under-dress can look chic, cool. For instance: Givenchy spring 2013, Haider Ackermann spring 2013, another Haider Ackerman spring 2013.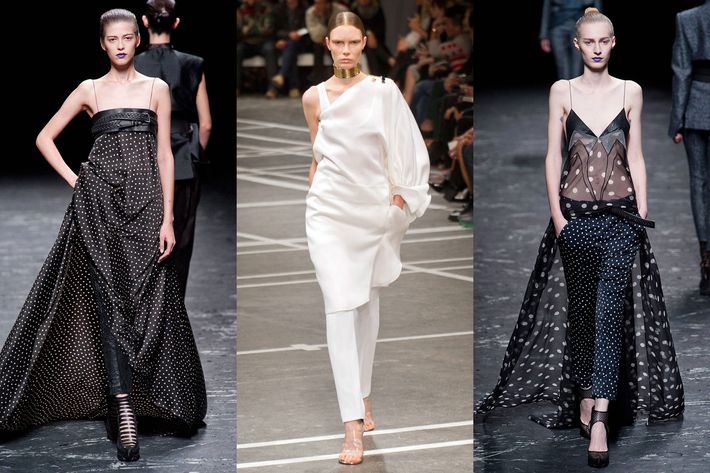 Sally: Not convinced. That second Haider Ackermann look — leather pants under a dress for spring/summer? You would be SWEATING.
Sally: The only time you need that is when you're biking in a skirt. But I would NOT bike in leather pants.
Veronica: True, but it also makes an otherwise precious-looking dress more interesting — like, yes, I can wear this bomb evening gown but little do you know I am Beatrix Kiddo under this thing. It's a statement piece, not an action piece per se. I also wouldn't bike in that outfit.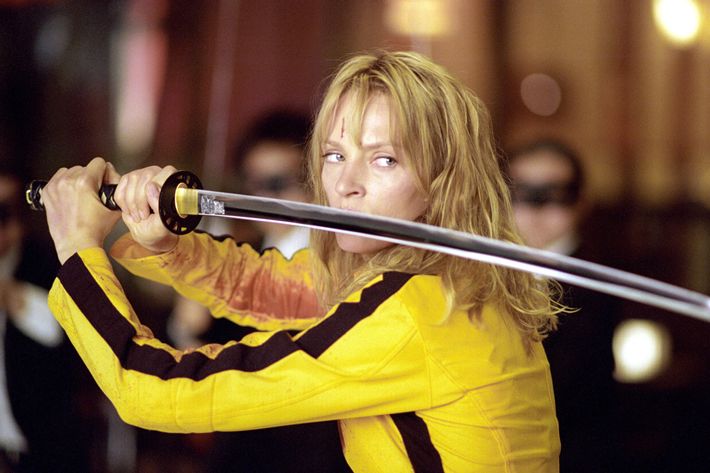 Sally: Maybe my problem is that it reminds me of when I'd walk to school in the winter and wear sweatpants under my uniform skirt for warmth. Not. Cute. But I guess Givenchy and sweats are not the same.
Veronica: It's how you rock it. I think you could wear sweatpants with a heel à la Dries Van Noten.
Sally: Oh my God, are there pants under that skirt!? The BULK! I can't get over the BULK! New theory: This is a high fashion vs. general public problem, and I can't get on board because I am not a swan model.
Veronica: I'm not either, so I will probably look ridic when I attempt this, but there is something comfy and luxurious about wearing a dress with my wool pantalones or leather leggings. And I suspect this trend will trickle down to more of a shirt-dress-over-SLIM-trousers look.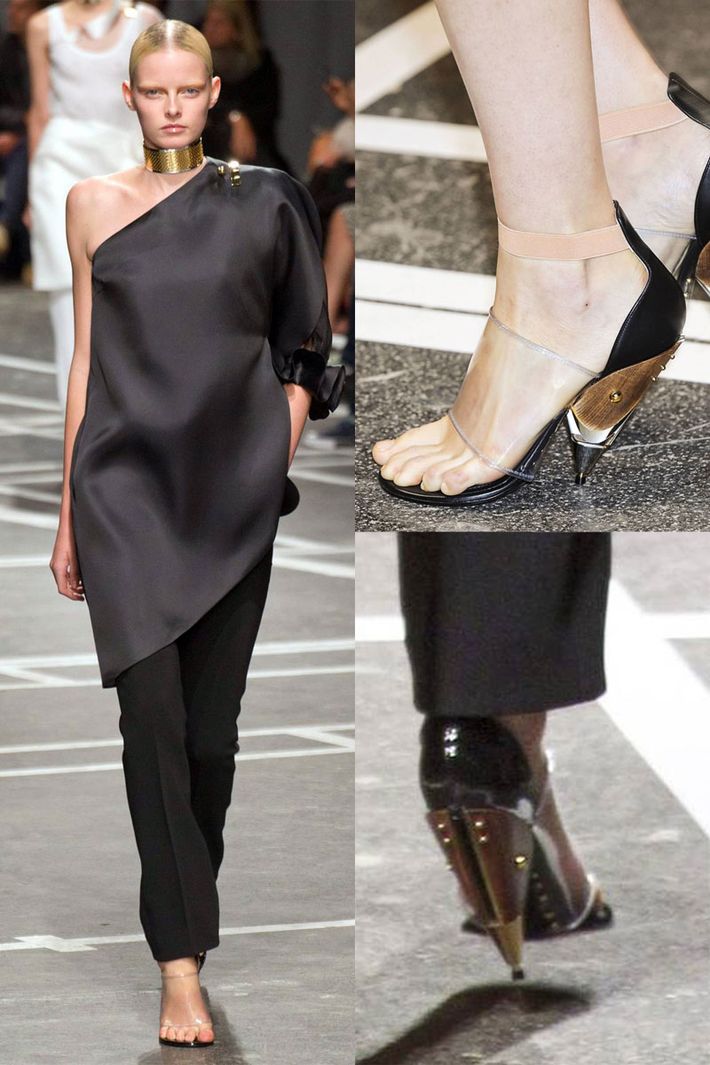 Sally: Don't even get me started on those Givenchy shoes.
Veronica: I like a lucite heel, not as sure about the clear vinyl front. I'm not as strongly opposed to these as I am to THESE.
Sally: I bet Charlotte won't like them. She hates showing feet.