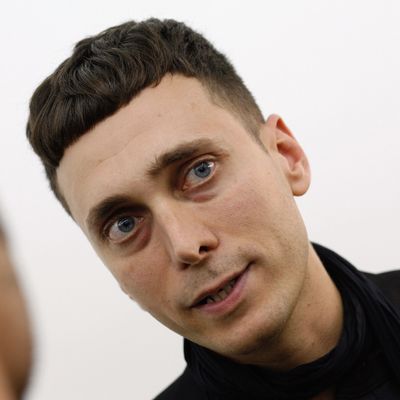 Hedi Slimane.
Photo: Miguel Villagran/Getty Images
You've seen Hedi Slimane's debut Saint Laurent show, you've read the reviews, and you've heard what it was like to model the clothes. Now you can see the collection from Slimane's eyes, thanks to behind-the-scenes photos he took of models Georgia Hilmer and Sarah Engelland during the fittings, now up on Style.com. Like the ads he's shot for the label, they're in black and white, moody, and feature those slabs of black marble that he's putting all over the revamped Saint Laurent stores. Other props of note: crossword puzzles, a nearly empty glass of red wine (surely a nice California Cabernet), and yes, those hats.
The clothes do look cooler through Slimane's lens than they did on the runway, which speaks to his grand, all-encompassing vision for the brand. (Then again, pretty much anything would look good against the gilded walls and parquet floors of the historic couture salon where this was shot.) Given Slimane's photography background, it'll be interesting to see how much control he exercises over who shoots his clothes for editorials in the coming months.
See the complete Saint Laurent spring 2013 collection.
Related:
Meet the New Girl: Georgia Hilmer Really Enjoyed the Antipasti at the Chanel Cruise Show
Saint Laurent Model Louise Parker on Hedi Slimane, Her Exclusive Contract, and Those High Heels