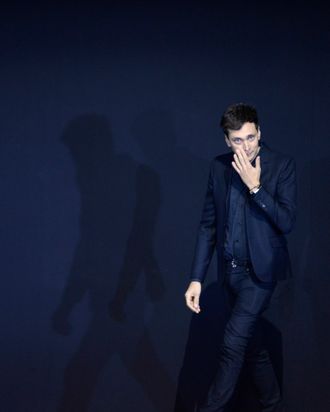 Hedi Slimane.
Photo: MARTIN BUREAU/AFP/Getty Images
Over the weekend, Hedi Slimane scrubbed his Twitter feed clean of all things Cathy Horyn, including his open letter. In what is surely just a very convenient coincidence, WWD ran a strange and lengthy story this morning about some old drawings by Yves Saint Laurent that were allegedly stolen from his apartment years ago. WWD's report makes no mention whatsoever of the more recent controversy surrounding the fashion house, and begins thus:
In a tale that has all the makings of a Hollywood mystery, the battle involves his longtime lover and business partner Pierre Bergé allegations the drawings — many of which are erotic — were stolen … The complete story remains elusive.
Elusive indeed. Here's the short version: Almost 300 original Saint Laurent sketches — some of which are "pornographic" — went missing at some point and are now in the possession of an unidentified German man. (Of course he would be German.) The weakest part of this whole saga is that no one could (or would) identify the subject of said sexy pictures, although auctioneer Christie Frost described them as "not really open-auction material." Hot!
But the content of this story matters a lot less than its timing. That this so-called "Hollywood mystery" about YSL's storied history surfaced in the wake of a rather embarrassing Paris Fashion Week for the fashion house seems like someone's attempt to wag the dog. 
In any case, the Horyn vs. Slimane dust-up can officially be put to bed now that Slimane's tweets have been removed (on the Internet, deletion basically translates to a sheepish apology) and YSL has withstood the predictable backlash from journalists and bloggers alike for having the nerve to infringe upon the freedom of the fashion press. We can all agree that in the age of the Internet, setting rules about how the press can cover fashion shows is ineffective, even counterproductive. (Case in point: Cathy Horyn was barred from the show, but she reviewed the collection anyway — negatively, along with almost every other major critic — based on the very high-quality photos available on the Internet.) 
It's notable that Tom Ford, the last major designer who attempted to control press coverage of shows, actually threw in the towel this season and released images of his complete collection to the press within a week of his presentation. While Ford's top-secret, anti-Internet stance was seen as a novelty when he first tried it — and arguably did succeed in drumming up that much more excitement and anticipation over clothes — it wasn't a sustainable model for showing his collections. After the initial buzz of his return to fashion wore off, he surely realized that people would get more excited about his designs if they could see them, and so he came around.
But to dismiss this YSL drama as a case of poorly handled PR, or even as an attempt to copy Ford's strategy, would be too easy. Like Ford, Slimane kept press away from his first collection for YSL. But when it came time for him to unveil his work to the public, Slimane made a statement by giving front-row seats to his friends instead of venerable critics and refusing to answer questions after the show. Maybe that statement rubbed some people the wrong way, but it's in keeping with Slimane's rebellious reputation. One could compare this to the Dolce & Gabbana spring 2009 show, when bloggers like Bryanboy, Scott Schuman, and Garance Doré were given front-row seats — a shocking and controversial choice at the time. 
Whom you put in your front row can say a lot about what kind of brand you are. And as Horyn herself proved, no critic needs a good seat and a backstage interview anymore to write a thoughtful review. Making journalists stand in the back might have been rude, but it didn't preclude them from doing their jobs. Maybe we're focusing too much on the fact that Slimane gave bad seats to important people (or no seats at all), and instead we should look at Slimane's choice to give good seats to those described by the Times of London's Laura Craik as "glum-looking indie kids in black drainpipes."
Instead of thumbing his nose at journalists, perhaps Slimane was actually trying to make a statement about democracy in fashion by giving critics just as good a crack at seeing his clothes as indie kids and everyone else in the world. Ironically, by restricting press access for some, he actually leveled the playing field for critics everywhere and opened up one of the first real conversations about the relationships between designers, fashion publicists, and the press that we've had in a long time.