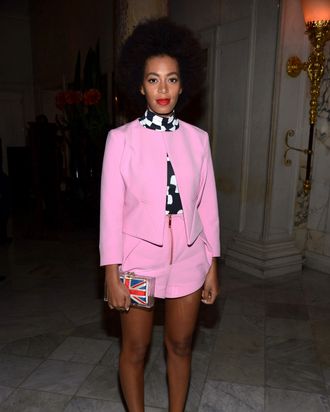 Solange Knowles.
Photo: Dimitrios Kambouris/Getty Images
When Solange teamed up with stylist Ty Hunter on her latest video, "Losing You," she sent him mood boards and even helped him pull clothes. "He knows how I roll. I'm definitely not the girl you just hand an outfit to," she told us at least night's Absolut Tune party at the Top of the Standard. "We just called all my friends — Suno, J. Crew, Kenzo, Opening Ceremony … and I was just like, 'Send me your good shit.'"
She's worked with Hunter previously, most notably on her "Sandcastle Disco" video, and he's also worked with her sister Beyoncé. "I only work with him in videos because he's a busy man. I save him for the big ones," she explained. They shot "Losing You" in Cape Town, South Africa, which she describes as "very, very cool." While she was there, she was photographed for the cover of Elle South Africa wearing only local designers. "It's such a progressive city that there's all kinds of archetypes of style. Hipster culture, preppy, it covers it all," she explained.
Solange admits she's always getting asked to start her own label, but she has no interest in doing so. "Honestly, I would never do anything like that — there's so many talented designers that have such a massive skill and have been working on it for so long." She's open to collaborating with her designer friends, though: "Kenzo, J. Crew are all my peeps. To work with friends is how I've structured my life," she says. "I've been approached a few times. It's really a matter of the timing being right. There's obviously a lot on my plate now, and my son is a high priority on my list."