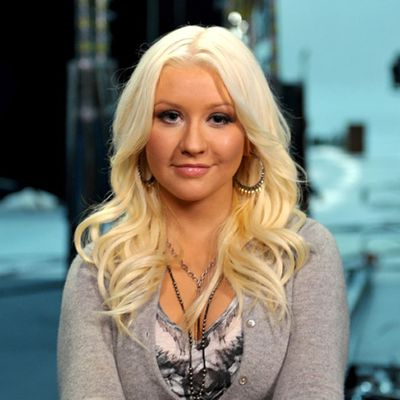 Photo: Yum! Brands/Splash News
Yesterday, two quotes in which a defiant Christina Aguilera embraced being "a fat girl" went viral. From the rabble of the Internet, a collective "you go, girl!" rose up as tabloid magazines, women's blogs, and news sites repeated the quotes far and wide: "You are working with a fat girl. Know it now and get over it," Us Weekly initially reported Aguilera said, quoting at length from a Billboard magazine profile. (Us has since removed its widely cited article.)
But the Billboard profile doesn't contain those quotes; both Aguilera and the magazine say they're fake. So where did these long, detailed passages written in the pop star's imagined voice come from? Are they fan fiction? Did some collective female subconscious just will them into existence?
The whole ordeal is an object lesson in the viral power of wishful thinking. The fake quotes in question:
I got tired of being a skinny white girl. I am Ecuadorian but people felt so safe passing me off as a skinny, blue-eyed white girl … [In 2002,] I had gained about 15 pounds during promotion and during my Stripped tour. They called this serious emergency meeting about how there was a lot of backlash about my weight. Basically, they told me I would effect [sic] a lot of people if I gained weight — the production, musical directors. They claimed people I toured with would also miss out if I gained weight because I would sell no records or tickets for my shows. I was young, so I lost the weight quickly and was toothpick thin during [2006's] Back to Basics promos and touring.

I told them during this Lotus recording, 'You are working with a fat girl. Know it now and get over it.' They need a reminder sometimes that I don't belong to them. It's my body. My body can't put anyone in jeopardy of not making money anymore — my body is just not on the table that way anymore.
Raw, detailed, and direct. No wonder everyone wanted these quotes to be real. As for how they were disseminated, Entertainment Weekly cites "an endlessly reblogged post on Tumblr." But the blogger at Fat Girl in Cheap Clothes, the Tumblr in question, says she doesn't know where it came from, either:
I really don't understand how I became the originator of a quote that had 600+ notes on it when I reblogged it. It does make me really sad its a fake though. Insert two billion sadface emotions here
Somewhere, a writer of fan fiction is having the best day ever. Consider it an homage to Aguilera's latest body-obsessed single, "Your Body."