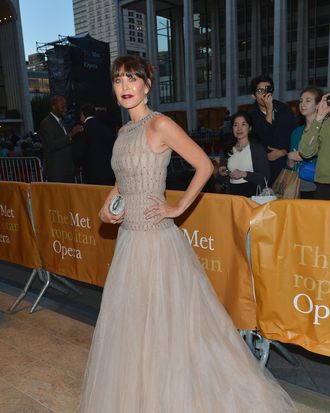 Photo: Larry Busacca/Getty Images
Tamara Mellon left Jimmy Choo almost exactly a year ago amid murmurings of bad blood between her and Labelux, which had bought the company earlier in 2011. She's since quit smoking, written a book about her Choo days (out next year), started dating CAA founder Michael Ovitz, and begun secretly plotting her next business venture, according to a lengthy new profile in the Times. She can't actually talk about her new project yet, though, because she signed a non-compete agreement with Jimmy Choo that expires in February, which explains why she's been so quiet all year. 
Here's what we do know about her forthcoming company: It'll involve fashion, obviously, and is rumored to be an eponymous lifestyle brand like her best friend Tory Burch's. And even though it has yet to exist, investors are falling all over themselves to get in on it, she tells the Times: "As soon as my resignation came out from Jimmy Choo, I had lots of people e-mail me saying, 'I would love to invest in your new project.'" Business magnate Ron Perelman, a friend of Mellon's, admitted to the Times that he's one of these would-be investors. We can probably assume that Mellon will appoint herself as the face of her new brand as well, just as she did at Choo.
For now, Mellon will have to plot her comeback in secrecy, holed up in her palatial Upper East Side apartment, but we can certainly expect a lot of noise (and maybe even some new cat pictures!) come February. Oh, and for the record, she says she never dated Kid Rock ("Rob"). It's not too late, though!
Related: Tamara Mellon Reportedly Left Jimmy Choo to Start Her Own Brand