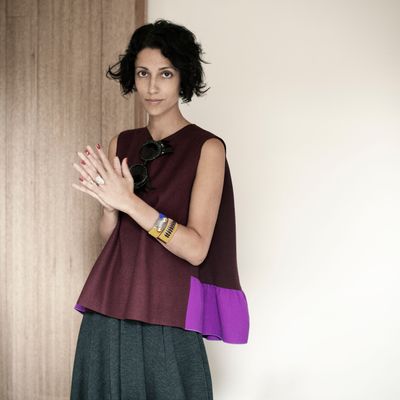 Yasmin Sewell, 36, has already checked off a number of fashion-world boxes. In 1998, at the ripe-old age of 22, she opened a London shop called Yasmin Cho, where she helped launch the careers of Pierre Hardy, Rick Owens, and Gaspard Yurkievich. The New York Times called it one of the most influential boutiques in the world, and Courtney Love was a loyal customer. The store, a converted office with a buzzer, served tea, had a Playstation — "Playstation was really where it was at for the kids," Sewell remembered — and the clothes were arranged around a large sofa where people hung out all day. "It wasn't to be snobby," Sewell told the Cut, "in fact, it was the opposite. More just to create a really safe, comforting, fun environment."
After a stint at Browns department store, Sewell started her own consulting firm and is credited with Liberty of London's 2009 overhaul, making it profitable for the first time in fourteen years. Now she works with brands like Maje, Mulberry, and Hermès, and just began a mentoring program to provide her fashion and business expertise for free to young designers. Perhaps the secret to her success is that she's so utterly likable and level-headed. "I don't believe in slaving away to get results — at all," she said. We spoke with Sewell after Paris Fashion Week wrapped, which she survived by meditating, drinking tea, and not going to parties (take note: "I don't ever go to fashion parties. I think I've been to two in my entire career"). Read on for more from our interview with the fashion consultant.
How was your fashion month? Any stand-outs?
I loved Dior. When [Raf Simons] showed the couture collection, it kind of blew me away. It was exactly what I was wanting at that time. In my mind, I was wanting to be shown a new way to dress, and I didn't quite know what that was. I knew that it was a certain silhouette. And then he showed the couture and it was that. And then, when he showed the ready-to-wear collection, I just felt it was the perfect extension of that. I thought it was supremely elegant, as Dior now needs to be. But also really modern.
You're photographed a lot during fashion month — in fact, you appeared in many of our street-style roundups. Do you dress especially for the photographers?
I actually enjoy it now more than maybe ten years ago. Rather than resist it — because I can be a really lazy dresser, and day-to-day I kind of am — I find it's a good time to wear that dress that maybe I wouldn't feel right wearing another time … This is a time where everything comes out. Even though I'm not super crazy in how I dress.
Do you ever get annoyed by the street style photographers?
[Fashion week] is not really about you — [it's about] the shows. You're there to go and look at a collection that a whole bunch of people have spent months and months putting their hard work into. So I did struggle with it a bit [at first], and I did feel a bit self-conscious, which I still can because you don't always feel like you want to have your photo taken. But I think recently I've been a bit more like, Woohoo! Let's get dressed up and have fun and also see some great things. And I like watching what other people are wearing too now, because everyone seems to have stepped it up a little bit … it's like the whole world watching now.

Tell me about the store you opened in London, Yasmin Cho, when you were just 22. The New York Times called it one of the most influential boutiques in the world.
I found that all the stores in London had really beautiful designer clothing, but generally treated you like shit. And I remember experiencing that, being this 20-year-old Aussie girl with a shaved head, walking into a great store and not being treated the way I wanted to be treated because they presumed I wasn't there to spend enough money. So based on that, and a love for buying, and a knowledge of customer service, I opened up the store. I wanted it to service the customer so much that I ended up making it upstairs in a converted office building. There was no frontage. It was private, you had to buzz and come up. And it wasn't to be snobby — in fact, it was the opposite — more just to create a really safe, comforting, fun environment. And I had a Playstation. At that time, Playstation was really where it was at for the kids. And men used to come in and drink tea and hang out on the couch … it was a place that people would just hang out at all day.

What designers did you carry?
I didn't really realize at the time that I kind of had a knack for finding new people. And maybe because I didn't have a history in buying or retail, I wasn't jaded … so, it was all about risks, and I wanted to show what I loved. At that time, I think I was the first to launch people like Pierre Hardy, first to launch Rick Owens. I had Gaspard Yurkievich. I think I launched A.F. Vandevoorst and Imitation of Christ at the very beginning when it was really cool. And I wasn't even thinking about sales. I've changed since then! But at the time, it was the late nineties, it was all about kind of avant-garde. Fashion in general is much more commercial now in the world than it was then. I just went for it, and as a result it had a lot of integrity and people loved it.

Did you have any big-name clients?
Courtney Love was my favorite client. She was the best. She would come in all the time and she was incredible to work with. She was completely wild and a lot of fun and she used to get naked and run around the store and other customers would be jaw-dropping the whole time. And she would always be buying presents for her friends and she really loved a lot of designers that I had. I always think about her when I think about moments with customers. She used to stand at the bottom of the stairs because it was two flights up, screaming out my name as she was coming up the stairs. "YASMIN!" And I'd be like, Oh my god, she's coming!
After the store, you went on to consult at Browns, which led to opening your own consulting firm and managing the overhaul of Liberty of London. How do you wrap your head around a project as big as that?
We were about to go into a recession. And most people who are going into a recession would be like, Alright, let's cut everything off. Let's make some entrenchments, let's go safe. And that's an easy way, which people would do. And that's how you fail, because then you lose your voice and you don't stand out … You have to think about and feel what it is that [people] will want. What's going to inspire them? And if you can get your head around that, and people are with you to execute that, then I think you can do great things.
How do you know what's going to be next in the fashion world?
It's just a feeling! It's probably just being aware of what's going on, enough so that you're not ignorant. But most of it is just intuitive. I think whenever I have acted purely on intuition, it's paid off for me. Like, my store was just a feeling and a vision that I had, that I felt was right. And if I had second-guessed myself, which I easily could have if I was jaded, it probably wouldn't have worked. And it's not to say everything you feel is right. When you're thinking about how to predict things, there's no rhyme or reason, you've just got to feel it. I think any creative director of any fashion house would probably say the same thing.
In your expert opinion, what would you recommend to buy this season?
I would say to invest in some really good flats, like really good man-style flat shoes or great flat boots. I think it's nice that flats have sort of come back into fashion. And I think they're always good investment pieces just because you'll wear them. I would also say, I think suiting still feels really nice and I think that even if it's not all these strong, vibrant-colored, printed suits, it's okay. I also still think peplum shirts and dresses are really nice and that kind of silhouette is really beautiful. Anything that comes in at the waist and kicks out feels really right and forward.

Are there any trends you're tired of?
I'm quite tired of seeing cropped denim shorts. And it hasn't been around so much, but still a lot of people feel that tight, short silhouettes are still right, and I really don't think that's right anymore. I don't like to see it. I think denim shorts and those sorts of body-con things don't feel good. Even when I see other people with great bodies in them, I still think, Mmm, no.