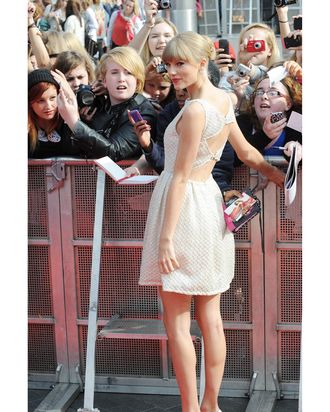 Taylor Swift.
Photo: Stuart Wilson/Getty Images
Another quasi-random collaboration, just in time for the holidays: Taylor Swift is making a red sneaker for Keds, named after her new album, Red, which comes out on October 22. This is in conjunction with her new three-year contract as the footwear brand's spokesperson; she'll also appear in ads and social media campaigns, according to WWD. Meanwhile: 
In the coming months, [Stephanie Brocoum, vice president of marketing at Keds] said the brand would be giving away 13 pairs of Swift's shoe every day for a month — 13 because it's Swift's favorite number.
And that, folks, is how global business decisions are made. Remember when Mischa Barton had this job? How times have changed.