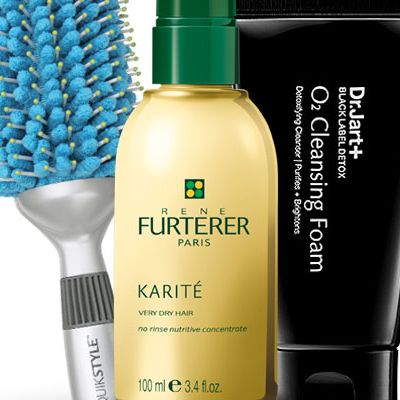 Each weekend I test out a few of the many beauty products to hit my desk, so you don't have to.
Rene Furterer Karite Leave-In Nourishing Cream ($26, Derm Store)
My hair spent the weekend getting soaked in ocean water, pool chlorine, and being whipped around by the Outer Banks' salty breeze. At the end of the first day I could barely get a comb through it. Post-shower, I applied a few drops of this orange-blossom-scented, no-rinse cream, and my hair immediately felt softer from the shea butter, vitamin E, and B5 without leaving my hair feeling weighed down. Recommended.
Goody QuickStyle Half-Round Styling Brush ($11.99, Target)
This rather enormous brush with it's blue microfiber bristles claims to dry sections of hair by absorbing water by 30 percent. For short-haired people like me, the sheer width of this brush makes it difficult to do much at all because the bristles can only capture half of the follicles. The portions it did manage to grab left the brush feeling damp, so I could tell it definitely did something, but perhaps not enough to keep me from grabbing a good ol' fashioned terry cloth. Also, the maintenance required to keep it in tip-top shape means regular shampoo sessions to keep the fuzzy blue bristles stink-free.
Dr. Jart O2 Cleansing Foam ($24, Sephora)
The super-oxygen-charged molecules in this water-based cleanser remove dead skin cells, while lemon extracts brighten complexions and green tea and blueberry antioxidants recharge skin. While most detox cleansers will strip skin of natural oils, this chemical and fragrance-free cleanser actually hydrates upon application and didn't leave my skin feeling tight.