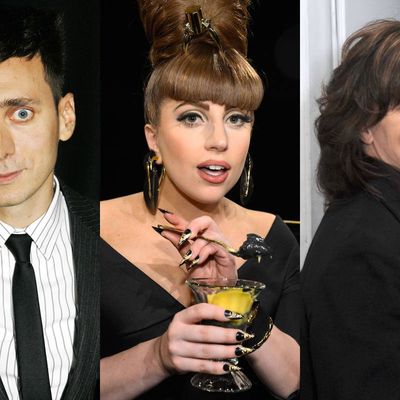 Slimane, Gaga, and Horyn.
The Times's public editor, Margaret Sullivan, published a piece today addressing the barbs leveled at fashion critic Cathy Horyn this month — first by Oscar de la Renta a few weeks ago and, more recently, by Lady Gaga and Saint Laurent at Paris Fashion Week. (To review: Gaga rapped "Cathy Horyn, your style ain't dick" in the Mugler show soundtrack, and Hedi Slimane barred her from his debut show for YSL.) Interestingly, the paper ignored Slimane's subsequent tweets and "open letter" about Horyn, perhaps believing that they didn't merit a response. In fact, they don't really think Gaga does either. Says Horyn's editor Stuart Emmrich: "Gaga is Gaga, and being outrageous, even vulgar, seems to be one of the ways she keeps herself in the public eye. I'm not going to concern myself with her opinions of our fashion coverage."
Emmrich is obviously on Horyn's side in the Saint Laurent show saga as well. "I would say I find the situation (about being barred from the Slimane show) more perplexing than upsetting," he wrote. "I think Cathy dealt very deftly with this issue in the blog post she wrote after the YSL show." Long story short, the paper continues to stand behind Horyn's work, and nothing about her coverage will change. After all, the winner of this whole scuffle is undoubtedly the Times, which surely got a nice boost in traffic as a result.
Related:
Lady Gaga Disses Cathy Horyn and Art Ortenberg in Her Mugler Rap
Complaints Against Saint Laurent Gain Steam
Cathy Horyn Deems Hedi Slimane's Attack 'Silly Nonsense'
Cathy Horyn Wasn't Invited to Hedi Slimane's Saint Laurent Show