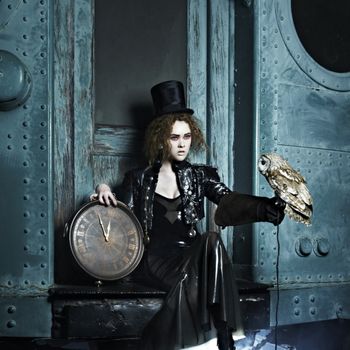 America's Next Top Model.
Photo: Mike Ruiz/Pottle Productions Inc.
The girls can't stop talking about Leila's departure; one of the front-runners going home so suddenly reinforces the idea that none of them are safe in the competition. One of the many things that sets this cycle apart from previous cycles is that the judges don't actually deliberate or collaborate on elimination decisions; instead, they determine their scores individually, and only based on the picture the model has taken that week. There's a lot to be said for improving the show's objectivity, but at the same time, the previous judging structure allowed the judges to be lenient if one of the stronger girls had a bad week. Either way, it's not surprising that the girls are so jangled. 
This week's challenge takes place at the Culver Studios, and the girls are tasked with using motion capture technology to create a video game character using "every tool in your modeling chest." Rob Evans explains that this challenge is relevant because college students love video games. (Oh! Now it all makes perfect sense.) The girls must perform a simple sequence — a few lines, a leap over a vault and a bar, and a "taunt" — the video game equivalent of a football player's end-zone dance. It's not particularly challenging, so everyone performs well, but it's Laura who ultimately wins yet again.
Back at the house, Victoria calls her mom (thank God — after two episodes without a call to Mrs. Henley, this was long overdue). She tells her that she misses giving her hugs and kisses and cooking with her, "because it's like I can't taste without you." Fortunately, P'trique shows up to deliver live-action Tyra Mail, which immediately beats out Victoria's phone call as the episode's most awkward moment. In his message, he hints at the Wild West and booties and bringing it, and the girls all assume the shoot will be cowgirl-themed.
Instead, it's steampunk themed! Photographer Michael Ruiz tells them they'll be working with a temperamental co-star "whooooo" they'll meet later. Staggeringly, none of the girls figure out that it's an owl. Laura is the most predictable of the standouts (seriously, it's getting boring), but many of the other girls struggled, and that's probably because they were given a lot of random elements to try to combine into a cohesive photograph — you have an owl! On a train! In a steampunk outfit! But also with some facepaint!
Undaunted by this, Victoria created a complicated backstory for her character and Johnny, who has a soft spot for her crazy, asks her what it is. She takes a deep breath and says, "My boyfriend was the head of a traveling animal circus and I'm upset by some of the ways that the animals are being treated. He's very cruel to the animals. I'm also an animal rights activist. He ends up cheating on me, so I kill him. And I set all of the animals free."
Meanwhile, Yvonne has been complaining all week about the competition, claiming that this isn't what she thought modeling was all about (the waiting, being treated like a product, etc.). When Johnny tells her they want to stop the shoot and put her in a different skirt, she blows a raspberry of frustration, and Bryanboy immediately calls her out, and won't stop hounding her until he gets the last word. It was unprofessional of her to do it, for sure, but it seems equally unprofessional for him to harp on it so relentlessly, even after she apologizes.
At judging, the panel seems surprisingly sedate — maybe they're still sad Leila left, too? Tyra does seem to perk up when she starts showing the girls some of their negative comments from online and forcing them to read them out loud, and Kelly does get a few solid zingers in — she tells Kristen that she looks like a waitress at an Oktoberfest and Allyssa that she looks like a twisted Pippi Longstocking, although that was actually a compliment. In the end, Laura won again (after receiving the first 10-10-10 score from the judging panel), and Yvonne is sent packing — much to the relief of a sobbing Victoria, who was second-from-the-bottom and who nearly faints.
Next week, the girls take a road trip to some wind turbines. Educational!