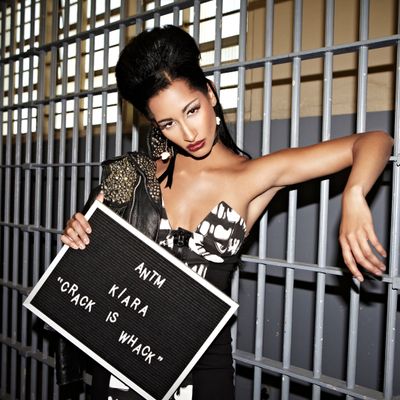 Photo: Mark Hunter/Pottle Productions Inc.
Laura's still reeling from her near elimination but resolves to put it behind her, do her best, and leave the results in God's hands. I semi-love it when reality-television-show contestants reference trusting God with the outcome of the show, since it makes me picture God straight chilling in the sky, smiting the contestants who are less worthy of — to name a relevant example — becoming the face of the official Top Model perfume. Meanwhile, Victoria responds to the girls' concern and criticism regarding her theoretical eating disorder by finally sitting down with them for a meal and suggesting that they make brownie cookies, which I've never heard of but would like to eat eight of immediately. Kristin isn't buying it and says she still thinks Victoria is too unstable for the competition; since Kristin is my least favorite, it bothers me to be in complete agreement with her. Fortunately, Kristin immediately steers the confrontation into mean-girl territory and I'm able to start disliking her again right away.
This week, it's the go-see challenge — since this is happening Stateside, I'm wondering whether the girls will get to travel abroad this season — and the challenge winner will be the girl who books the most jobs. They head off in pairs to Guess, Whitney Port, Cecilia Cassini, I Heart Ronson, and Lulu Guinness. There are the normal shenanigans — awkwardness, tardiness, traffic — but in the end, Laura books the most jobs (two) and wins the challenge, and every other girl except for Victoria and Brittany books one job. Back home, Laura breaks open packages full of clothes gifted to her by all of the designers; the rest of the girls side-eye her enviously.
At this week's photo shoot, the girls are taken to a local jail and booked — fingerprints and mugshots and all. Johnny gravely points out that thousands of college students are arrested each year and that one of the purposes of this week's shoot is to demonstrate that going to jail isn't glamorous. I mean, sure, but I have a hard time believing that a critical mass of college students commit crimes because they long for the glamour of prison. Kiara gets weepy and then super aggressive because the challenge reminds her of her shoplifting arrest, and Victoria shows up for the shoot in character once again, which mortifies me so deeply on her behalf that I have to mute my television. Laura gets the brilliant idea of sucking on her handcuffs during the shoot (that's not sarcasm — it actually looks really cool), while Kristin does a much better job of blowing bubble gum bubbles than managing anything cool or fierce in her face. Finally, it's Brittany's turn, who's been struggling with her feelings of inadequacy for long enough that she can't keep them out of her pictures anymore. (Side note: The photographer this week is Mark Hunter — the Cobra Snake — who inexplicably changes clothes four times throughout the shoot.)
Then it's off to the judges' panel, where the surrealistic nature of the fans' participation in judging is driven home once more when BryanBoy chirps, "Here's a comment from BlooCookies!" Victoria's photo is so over-the-top that Kelly announces she's actually offended by it, while one of her social media comments was, "Victoria looked like she saw a clown riding a bicycle with a ghost behind it," which is both completely baffling and my favorite thing I've ever heard in my entire life. Things take a turn for the dramatic when, during Laura's glowing critique, BryanBoy pipes up to announce that he doesn't like her at all and that he wishes online voters liked Kiara as much as they liked Laura. It's fine for him to have an opinion of his own, but he's not a judge, so the whole thing feels pretty rude. Then again, I'm wondering if he's trying to get at some of the racial politics behind the fan voting, which has seemed particularly skewed toward the blonde, blue-eyed models.
Unsurprisingly, Laura is the winner of this week's challenge, and Brittany is eliminated, which isn't much of a surprise, either. She's been struggling for weeks, and she's never been able to take the spark that's made some of her pictures great and translate it into her real life. Immediately after announcing her elimination, Tyra tells the girls they're about to find out which eliminated girl (including Brittany herself, which is sort of confusing) will be coming back to the competition. And it's … a freaking cliff-hanger. Great.