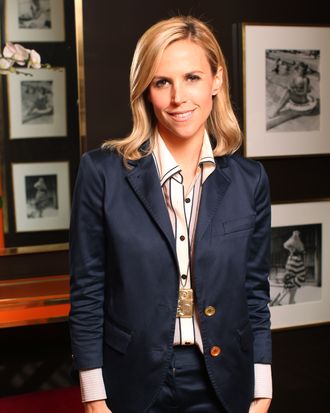 Photo: Thomas Iannaccone/Corbis
A week after Tory Burch appeared on Rock Center, and three weeks after her ex-husband filed a lawsuit against the designer and her company, Tory's lawyer told WWD that she's going to countersue. When? Well, that's another sore spot:
Tory Burch on Wednesday filed a motion for an extension of the deadline by which a response must be filed, while Christopher Burch countered with a motion of his own, seeking an expedited decision.

When Tory Burch does file her response, her attorney Marc Wolinsky of Wachtell, Lipton, Rosen & Katz said he plans on entering counterclaims that will include unfair competition, breach of fiduciary duty, breach of contract, and a violation of intellectual property.
Chris originally alleged that the defendants disrupted the running of his own business, C. Wonder, and tried to control his attempts to sell his shares in Tory Burch.
In the meantime, according to his attorney, he's "done a lot to appease Tory and the company," like swap out C. Wonder's lacquered front doors; however, "He has not changed his three stores in any significant way … I think in his SoHo store, he took out a rug," said Tory's lawyer. Lawyer/interior decorator! Zing or whatever.