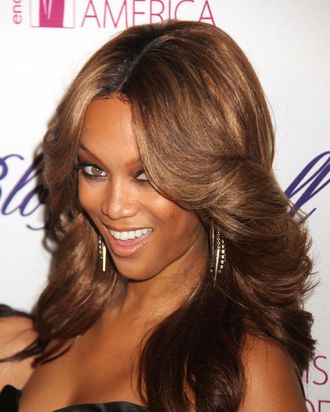 Photo: Nancy Kaszerman/ZUMAPRESS.com/Corbis
Tyra Banks can now add another slash job to her already illustrious resume: sitcom executive producer. Working with longtime friend and Top Model co-creator Kenya Burris, Banks successfully pitched her first scripted TV show to ABC — though it's not about Modelland, it'll still be great. Fivehead, the show's working title, will tell the story of Tyra's "long journey from awkward teen to one of the world's most recognizable supermodels," according to Deadline. The title comes from Tyra's nickname, with high school classmates deeming her forehead too big to be just a fourhead! Banks and Burris will develop characters and the show's storyline together.
A leaked scene from the show's script that the Cut just made up sees mini-Ty doing her best catwalk, without even knowing it, down her high school's corridor, while stereotypically mean girls taunt her; pan to the school's dashing QB — played by Rob Evans, of course — sighing longingly and tearing a page filled with "I heart Tyra" doodles from his notebook. Later, mini-Ty gives out candy to some orphans, keeping her soon-to-be top model figure in check.
Sadly, Fivehead's actual storyline suggests there won't be scenes devoted to Tyra's long-mythologized feud with Naomi, or that time she yelled, yelled at a Top Model hopeful … but then there's always season two, or the chance (cross your fingers) there'll be some dramatic flash-forwards. That would also allow Tyra to cameo herself — perhaps even as her own fairy godmother in "Beauty School Dropout"–style dream sequences, which you know she'd like.