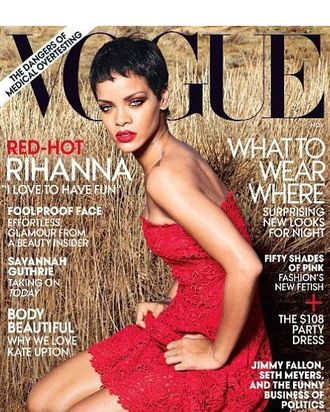 Rihanna in the field.
Photo: Vogue
For the November cover of Vogue, Rihanna poses in a grassy field that bears an amazing resemblance to the one an Irish farmer kicked her out of last year because he felt she was being "inappropriate." (The photos were actually taken by Annie Leibovitz in Lebec, California, not a remote area of northern Ireland. Oh well.) The accompanying profile, written by sports and culture writer Jason Gay, was finished well before Rihanna and Chris Brown started canoodling in public a few weeks ago, but its content certainly lays the groundwork for their reunion. In fact, Brown's name is mentioned exactly nine times during the piece, which investigates their relationship extensively.
Here are the quotes where he's discussed, starting with a description of the scene at the 2012 VMAs:
There's also drama surrounding the arrival of her ex, Chris Brown, who pleaded guilty to brutally assaulting Rihanna in 2009 and was for a time slapped with a restraining order. Not far from him will be Drake, who was involved in a bottle-smashing nightclub melee with Brown in New York a few months ago. 
And then a long bit about him a few pages in:
And yet, no matter what Rihanna does as an artist, her story always winds its way back to February 2009, when she was assaulted by Chris Brown. The abuse was shocking, and Brown pleaded guilty to felony assault. Though a cloud lingers over his name, Brown and Rihanna have become friendly. Controversially, she collaborated with him on a remix of a raunchy track from her last album called "Birthday Cake." Over the summer, she did a tearful interview with Winfrey in which she said she still loved Brown and hoped he "finds peace."

At dinner I ask her if she thinks she's going to be talking about Brown for the rest of her life. "To the world, I feel like there's no closure," she says. "There's some obsession that's continued even throughout when we weren't friends or couldn't be friends at all. Hated each other. The world hasn't let go. They haven't seen any progress in our friendship, because they don't see anything, really, besides the song."
On the backlash to featuring him in "Birthday Cake":
It was shocking, and there was blowback. "So now it's a bit of a fascination, I guess," she says. "I don't know if people will stop soon, but I feel like as soon as they have closure to it, they will." She doesn't expect she will win everyone's understanding. "But they're not on the inside. They can't see what I see, unless they're sitting in my point of view. I guess I'll learn to accept that."

It goes on and on. After the VMAs, a video is released of Rihanna giving a quick peck and hug to Brown as she walks back to her seat. It's the kind of innocuous exchange that happens a thousand times at awards shows, but because of the terrible history, the Internet blows up. The next week, Brown is photographed with a bizarre new neck tattoo of a damaged woman's face that his spokesperson is forced to deny is Rihanna. (It's a M.A.C. Cosmetics design based on a Day of the Dead skull, the spokesperson says.) The story doesn't stop.
Does this make it any easier to understand why Brown and Rihanna may now be back together? Rihanna also admits in the interview that she hasn't been on a date in "forever … Like two years," and that all she wants is "a guy to take me out and make me laugh for a good hour and take my ass back home." With that criteria in mind, it's hard to imagine that Brown's her best option.