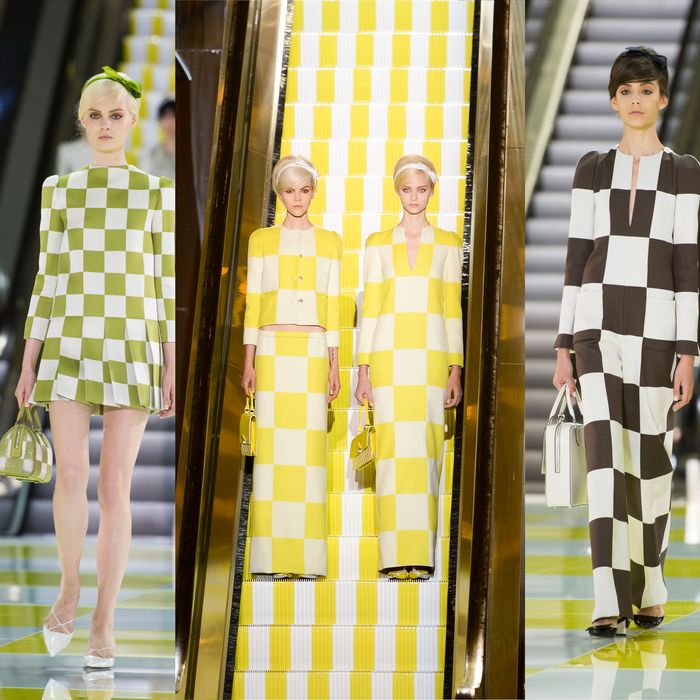 The Louis Vuitton escalator.
Photo: Stephane Cardinale/People Avenue/Corbis
The Louis Vuitton collection walked this morning, marking the final day of Paris Fashion Week. And this season, instead of trains or merry-go-rounds or other feats of people-moving mechanics, Marc Jacobs ferried his models two-by-two onto the runway via escalator, as though they were creatures ascending Noah's Ark (or an annoying couple at the mall who can't bear to part hands while moving between floors). This was no normal escalator, of course — its steps were decorated with yellow and white vertical stripes, which created a bright moving backdrop for the checkerboard runway.
Overall, the models-in-pairs thing was rather cute. It must be comforting to have someone there to catch you if you fall, or at least someone to trip if you feel like it. Each girl was loosely coordinated with her pair partner — both would wear different variations of a yellow and white checkered pattern, for example, or a brown and white print that at first glance resembled cow hide but then turned out to be a graphic floral prints. There were clear connections between the bright, mod graphics and what Jacobs showed in his eponymous collection a few weeks ago. We also saw lots more model abdomen peeking out between low-slung skirts and boxy tops that hit at the waist.