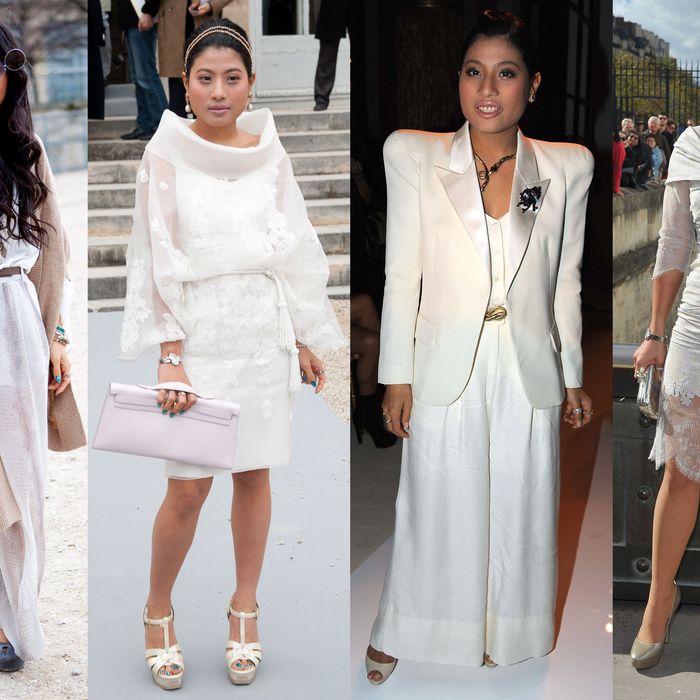 As the furor over Great Britain's accidentally naked princess abates, let us now direct your attention to an impeccably clothed princess: Sirivannavari Nariratana, royal granddaughter of Thailand (as she is formally known) and Paris Fashion Week staple. She attended five shows there this year. (Pictured at far right attending the Dior show.)
What you should know about Sirivannavari: She is 25 years old and daughter of Thailand's crown prince. Princess Beatrice reportedly snubbed her, once. She is a competitive badminton player and a "devoted customer of the French couturier Pierre Balmain." She has designed clothes for Bangkok Fashion Week and once did a show in Paris.
Though Sirivannavari regularly appears in front row galleries, she's almost impossible to search for, mostly because her name is hard to spell and there is no consensus on how to anglicize it. (Getty has competing archives for Sirivannavari Nariratana, Siriwanwaree Nareerat, and Sirwanwaree Nareetat.) In the interest of turning this well-dressed woman into a recurring character in the press, I hereby propose nicknaming her Princess Siri. The iPhone princess. And, like the iPhone, she is generally outfitted in all-white or all-black, with metallic accents.
Also of note: This picture of Princess Siri at last season's Lanvin show suggests she is quite petite, which makes her willingness to wear exaggerated Balmain shoulder pads even more impressive.
*We initially thought Princess Siri was the crown prince's only daughter. He actually has two daughters, one with his first wife and one with his second.