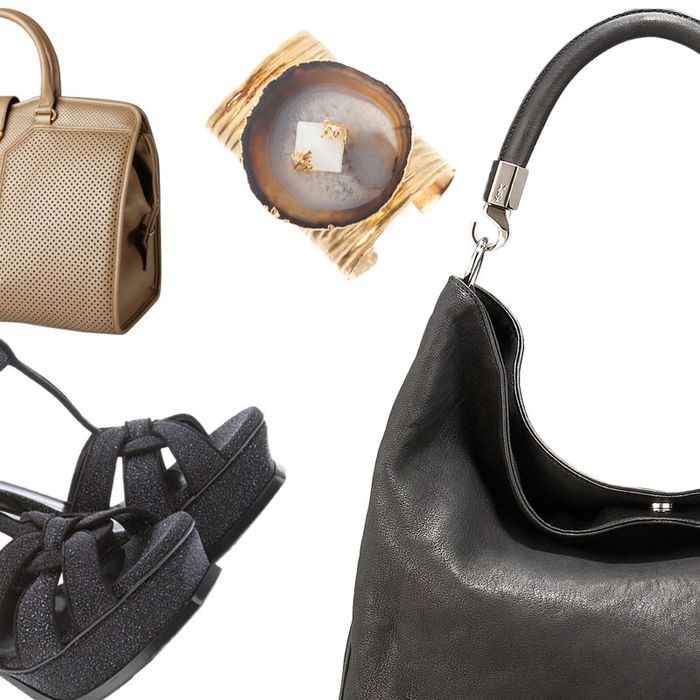 "Tomorrow is going to be OOC," the guy behind me said as we were waiting to pay. Already, the line to get into the Yves Saint Laurent sample sale was about 45 minutes long, and that was at 9:15 a.m. Once inside, the wait to pay was over an hour. The anxiety mounting on the stairs outside the showroom was palpable. As more and more people started walking down the stairs carrying multiple shopping bags, those in line got ever more fidgety.
Once you got inside, it didn't feel too crowded, mostly because people were waiting in line to pay, no longer digging through the wares. The left-hand wall is dominated by racks of shoes, very neatly sorted by size and all in boxes. There are a lot of Tribute heels, summer wedges, and embellished sandals. The best selection, as you might expect, is in the biggest and smallest sizes, but there are about two big, full racks dedicated to each size. The clothes hang across from the shoes, and are sorted by size rather than style. Patterned silk dresses, blouses, and JPMorgan-appropriate wool dresses dominate the clothing section, which is the most chaotic area but also the most picked-over. Bags take up two rows of tables and are color-coded by price. There are many perforated leather 'Cabas Chyc' tote available for $800, the Roadie Ranch leather hobo bag in multiple colors for $600 (with additional handles for $100 each), patent leather postcard totes for $300, and clutches for $200. "Well, this might be the last time you see a YSL bag," one salesman advised a customer, noting the brand's recent name change, which might explain the limit of three bags per customer. According to another employee, wallets were the first to sell out this morning, which makes sense because they were priced at $100. On the other side of the room, you'll find accessories including sunglasses, leather pencil cases, and jewelry — cocktail rings, big stone cuffs, and leather bracelets — are neatly arranged on a table, manned by employees who will put your selections in bags marked by name to be picked up at the register.
What you'll spend the most time doing at this sale is waiting. Waiting to get in, waiting for people to move so you can peer at the jewelry, waiting even longer to get to the front of the line to pay at one of four available registers. While checking out, we heard one girl tell her friends she had taken a half-day at work so she could manage this. Another holding two boxes of shoes gave up, saying she could get them on sale at Woodbury Commons for nearly the same price, but no wait. If you plan on going tomorrow, there will definitely be very long lines, as it's open to the entire public (not just "friends and family," as today was supposedly), but at least there will be new merchandise. An employee told us they were expecting a delivery of 3000 units that will go on the sales floor starting tomorrow. So, get ready to try on some heels, but wear your most comfortable slip-ons if you decide to show up and wait.
Women RTW:
Jackets: $300
Pants: $150
Skirts: $100
Dresses: $300
Coats: $600
Blouses/Tops: $100
T-shirts: $50
Evening Gowns: As Marked
Fur/Leather: As Marked
Swimwear: $50
Denim: $100
Older Stock: $50/As Marked
Women Accessories:
Handbags/Luggage: $200-$800 (And exotic skins as marked)
Wallets: $100
Belts: $50
Scarves: $100
Clutches: $200
Jewelry: $50
Exceptional Jewelry: As Marked
Sunglasses: $75
Umbrellas: $100
Men RTW:
Jackets: $300
Pants: $150
Suits: 500
Shirts: $100
Coats: $500
Sweaters: $200
T-shirts: $75
Swim: $50
Denim: $100
Men's Bags: $400
Men's Shoes: $200
317 W. 33rd St. nr. Eighth Ave.;  T–W (9–6:30), Th (10–4).