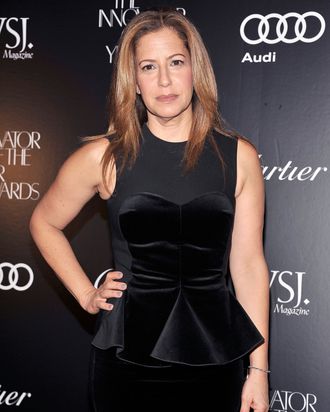 Deborah Needleman.
Photo: Gary Gershoff/WireImage
Even though Deborah Needleman took weeks to negotiate the conditions of her new post at T, new reports suggest that she was in talks with the Times well before her predecessor, Sally Singer, had even been let go. This would explain why she already had her first cover planned out mere days after assuming her new role, which she did officially on Monday this week. Everyone assumed that her lengthy negotiations were mostly to do with salary — WWD reported today that Needleman's previous employer, The Wall Street Journal, promised to match any offer that the Times made, and that the Times eventually "had to dip into its discretionary budget to get her." But reports today suggest that she also had requirements about specific changes to T.
While there's no confirmation from the Times that these alterations will go into effect, here's what she reportedly asked for, according to WWD:
- She wants T to have its own publisher, which would take pressure off her to woo advertisers. This is an interesting move because bringing in ad dollars is one of Needleman's greatest strengths, and Singer's downfall was attributed to her weakness in this area.
-  She wants T to be a monthly. Stefano Tonchi asked for this years ago as well, but the Times said no because it would might draw advertisers away from their other sections, like The New York Times Magazine.
- Instead of having themes like design, travel, and fashion, she wants each issue to be general-interest.  
Meanwhile, she also brought two of her WSJ. staffers with her to T: fashion features director Whitney Vargas and creative director Patrick Li. There's some question as to whether current T staffers will be re-ordered under the new leadership; WWD suggests that creative director David Sebbah might jump ship, but he predates Singer, so his position seems solid. If anything, online editor Jane Herman seems vulnerable, since she came with Singer from Vogue. Should she depart, this would open up an interesting job opportunity for Internet-savvy fashion people, of whom there are still decidedly few at that level.
Related: Deborah Needleman Already Has Her First T Cover Planned