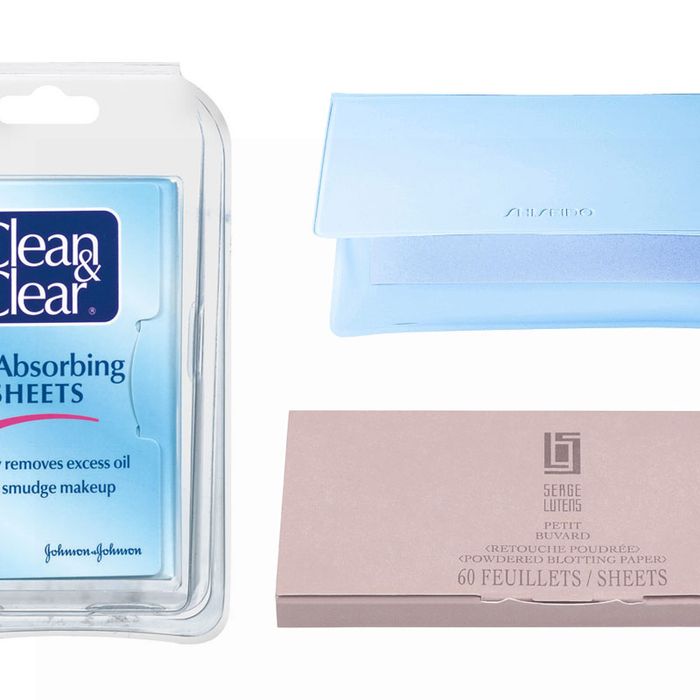 In beauty speak, I've got "normal to dry" skin, and I don't consider myself that oily. But by late afternoon, I inevitably have an extra gleam to my face — more than just a fetching sparkle, but not quite a full-on shine-fest. To prevent my co-workers from seeing their reflections on my face, I've always kept blotting paper at my desk. These thin, absorbent, pocket-size sheets discreetly remove surface oil from my skin and save me from doing something absurd (and drying my skin out) by running to the bathroom and washing my face. And while I've dabbled in different brands throughout the years — usually grabbed in a hurry while I'm checking out at Duane Reade — I've never been convinced of which variety is best at removing oil effectively without leaving a greasy residue on my fingertips. That is, until now, when I tested ten brands over several weeks to determine which blotting papers work best.
Underwhelming:
Japonesque Blotting Paper Pouch ($9): Each one looks and feels like dainty little sheets of rice paper, but they're way too thin. The oil went from my face right through the paper and onto my fingertips. Gross.
Black Radiance Oil Blotting Tissues ($8.99): These were also too thin. I'm not even that oily of a person, and one sheet was not enough to mattify my complexion. Again, these left residue on my fingers when I was finished.
Bobbi Brown Blotting Papers ($20): The texture of the paper reminded me of the stuff you'd use to line a cookie sheet. It's slightly waxy and slippery, which prevented them from absorbing as well as they should.
Recommended With Reservations:
Serge Lutens Blotting Paper ($18): The only reason these aren't ranked lower is that they smell amazing — like fresh flowers. You could keep these in your bag just to sniff, but the paper itself, which is covered in gold sparkles, is less reliable.
Sephora Collection Blotting Papers (Lavender Scent) ($10): These are lightly lavender-scented, which adds a clean, just-washed-your-face feeling. The texture, which feels a bit like the papers are powdered, felt strange on my fingers, but thankfully left no residue on my face.
Boscia Blotting Linens (Lavender Scent) ($10): Another scented option, these papers have a more overwhelming smell than Sephora's. They're good at de-sheening, though, and feel soft when you wipe them across your face.
Highly Recommended:
Shiseido PURENESS Oil-Control Blotting Paper ($18): For me, these are the reliable standard. They have the lightest covering of translucent powder on them, which ensures a matte finish post-blot.
Neutrogena Shine-Control Blotting Sheets ($7): These are blue, which make them a less discreet option if you're blotting at your desk, but they get the job done. Because they're dyed, they don't turn as dark when oil hits them and won't provide that deeply satisfying, disgusting "look what came off of my face" result.
Tatcha Original Aburatorigami Blotting Papers ($12): From a purely shallow perspective, these come in second. They're effective in de-oiling. But the gold-flecked, black-and-tan sheets are so gorgeous that I would gladly share with my date, or even a girl next to me in the ladies' room.
All-Around Winner:
Clean & Clear Oil Absorbing Sheets ($5.50): After using these, now it makes total sense why the girls in those Clean & Clear commercials are always fresh-faced and shine free — these sheets are like oil magnets. The texture is more plastic-y than papery, which isn't a bad thing: It makes them softer to sweep across the face and provides a great Rorschach blot when you're finished.