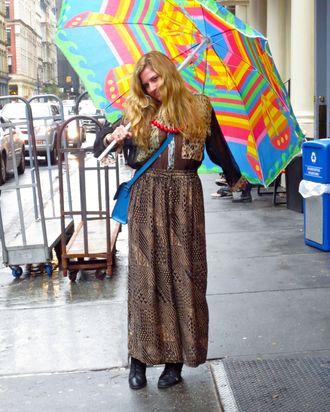 Photo: Courtesy of Michelle Joni Lapidos
Blonde, white, thin Michelle Joni Lapidos admits she wore the Afro wig to work sometimes. But she swears up and down that's not why she and her bosses at social shopping site AHALife parted ways last week.
"I just didn't think I particularly fit in at a company," she says over drinks at a Soho café. "They've called me out for being a square peg." Less than five minutes into meeting Lapidos — author of the controversial Before and Afro blog, in which the former Vogue intern wears a novelty wig around New York to "experience life differently" — this seems believable. She's not wearing the wig but it's raining out, and because she couldn't find her normal umbrella, she's carrying a rainbow beach umbrella that's as tall as a person.
"I realized that I care so much more about sitting at my computer and blogging about my life," she explains. "I just had to follow the 'fro."
To date, following the 'fro has been hazardous for Lapidos. After becoming enamored with a black Afro wig she bought for a Studio 54–themed party, Lapidos began wearing it a few days a week and taking pictures of herself. Finding that the wig had "changed her perspective," she launched her blog and began to document Afro-clad nights out (including, regrettably, a fried chicken festival), taking pictures of herself in the wig with people of color.
"I was like, if I'm going to wear this Afro, I should honor the people who actually have Afros," she says.
In short, it's not the kind of month-old Wordpress blog one would usually quit a day job for. But the former social media director is juggling a few part-time clients, including her parents' Beatles mail-order company and a vendor of "kitty strollers." She explains, "I'm allergic to cats but I do this for a living."
Thanks to unfriendly pickup from Okay Player, Post Bourgie, the Huffington Post, and Gawker, Lapidos's readership grew last week from 500 or so Facebook friends to 35,000 strangers. The comments section has exploded with accusations of racism and explanations of privilege, appropriation, and fetishization. Journalists are calling.
"Since this happened, I've been reading comments literally all day — every time I check my phone there's ten or fifteen new ones — and writing these fully formed, I don't even know, 'Dear Human Race … Fuck.'"
But Lapidos is no stranger to instant notoriety. Her first job after graduating from the University of Delaware, where she was snubbed by sororities but started a fashion magazine, was as a stylist's assistant. That gig included a bit part on NYC Prep, a reality show she describes as "the worst one ever." As part of her 2009 blog the NYC Game, she accepted another writer's challenge to get famous in two weeks. Taking one's clothes off being a time-tested route to celebrity, she hooked up with burlesque dancer Veronica Varlow, who gave her a free lesson and invited her onstage for a pasty-clad cameo. The stunt, documented by a camera crew, caused one blogger to give her the title of Tabloid Whore of the Week.
Lapidos says she had no intention of starting a conversation about race when she started wearing a black Afro wig and blogging about it. She just "thought it looked cool, straight-up."
"I've always had this mentality that you can do anything to create a different environment for yourself and learn about yourself," she says. An example: "After my Vogue internship, I saw things differently."
It's all a little vague, but it makes more sense in the context of her other New Age–y interests. Lapidos tells me she used to think falling in love was the most profound thing on earth, until a formative chemical experience revealed to her the pleasures of introspection. "Let's just say it was around Coachella," she says. "Really since Coachella, and a massage I got after Coachella."
To that end, she's got several unconventional methods for therapeutic self-discovery, including massages, yoga, self-photography, a weekly improv class, the "say yes" philosophy that she finds motivational. "I can't come up with ten reasons something's a bad idea, I have to come up with ten reasons why it's the best idea ever," she says.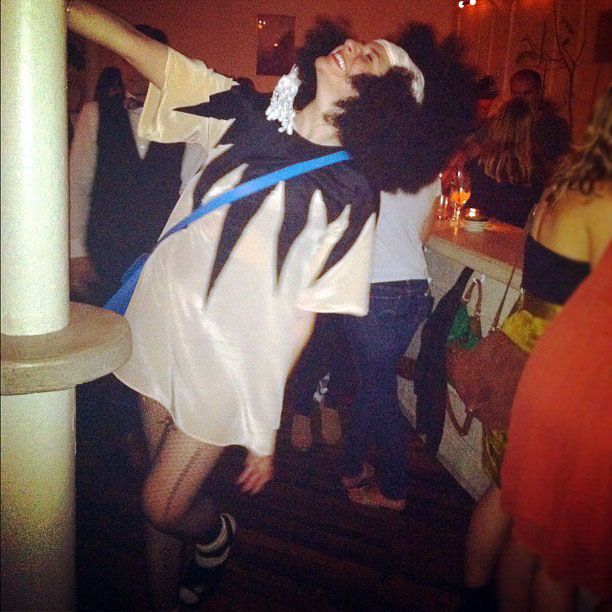 So even though using a symbol of black pride for her own self-discovery was met with disapproval, she stuck it out. "I'm asking people on the street, like, 'Can I wear a 'fro? Am I offending you?'" She held an informal Afro summit at Pinkberry after yoga class. "We got more into the culture of it all. The takeaway was 'if you want to wear a 'fro, wear a 'fro.'"
"The point of a blog is to create a conversation," she says. "This isn't the conversation I intended but this is the conversation that's happening. I think it would be ignorant of me to ignore it."
She acknowledges her privilege, in her way — "I've come from a place that's allowed me to be fearless" — and she's switched to a blonde Afro.
"I really feel bad that I've offended people. I don't feel bad for putting myself out there and doing something I believe in. Also to kind of learn that I just … don't get it. I'm reading it and I want to understand it more."
The timing of fifteen minutes of Internet infamy couldn't be worse, though. Lapidos turns 28 this week and had planned to join forces with a weekly LGBT party at a favorite party venue. Lapidos says the party host, whom she describes as "black and Jewish and genderqueer," vetoed her idea of an Afro-themed party, but agreed to go-go dancers and promoting the Before and Afro blog with a step-and-repeat photo-op and donations to LGBT advocacy group It Gets Better.
"Well, then all these stories came out," Lapidos says, referring to the outrage over her blog. "And I realized that she hadn't invited everyone on Facebook. I was like, 'What's going on?' and she was like 'Yeah, about that. My friends, they're not coming.'" Apparently the party planner's D.J.'s and friends didn't want to be associated with Before and Afro.
"It really hit me," Lapidos says. "That's my reality now."
"I'm not sure if it's healthy for my reputation to keep blogging on this site that people are hating on," she says."Especially because I came at it from such a place of love and wanting people to find inspiration and feel better about themselves."
Asked if she has any weekend plans, Lapidos says she's headed out of town for a wedding. She won't be wearing the Afro, but because her boyfriend is a groomsman in the Indian ceremony, she'll be wearing a saree.
"And a bindi, because the person who sold me my saree insisted," she adds. "I'm just like, 'Am I going to offend a whole other race?'"