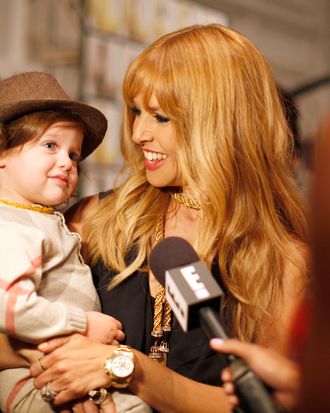 Rachel Zoe and Skylar.
Photo: CLINT SPAULDING/? Patrick McMullan
As if the line between reality TV and scripted TV wasn't confusing enough, Rachel Zoe and her husband Rodger Berman are now executive-producing a fictional comedy show based on Zoe's life with NBC, Deadline reports. The show will be written by Aseem Batra (Animal Practice) and directed by Todd Holland (of Malcolm in the Middle). No word yet on when this might start shooting, or any other details really, but onto a much more important topic: Who will play the fictional Zoe?
The Cut staff spent a good part of the past hour discussing the possibilities amongst ourselves. Will it be someone who looks like Rachel, or will they pick someone off-type, like, say, Leighton Meester? In fact, most of the female cast-members on Gossip Girl could work, including Kelly Rutherford. Here's our current list of purely speculative possibilities, in no particular order:
Busy Phillips: She'd be our top choice, if Cougartown doesn't conflict.
Kate Hudson: Why not?
Elizabeth Berkley: The last thing she was in was the Hallmark Channel's original movie Lucky Christmas in 2011. It's time for that to change.
Cameron Diaz: It'd be better than making rap videos with Gwyneth Paltrow.
Lea Michele: Then the show could be a musical!
Oh, and Rodger will surely be played by Matthew Settle, obviously. So, who would you like to see in the cast, hm?