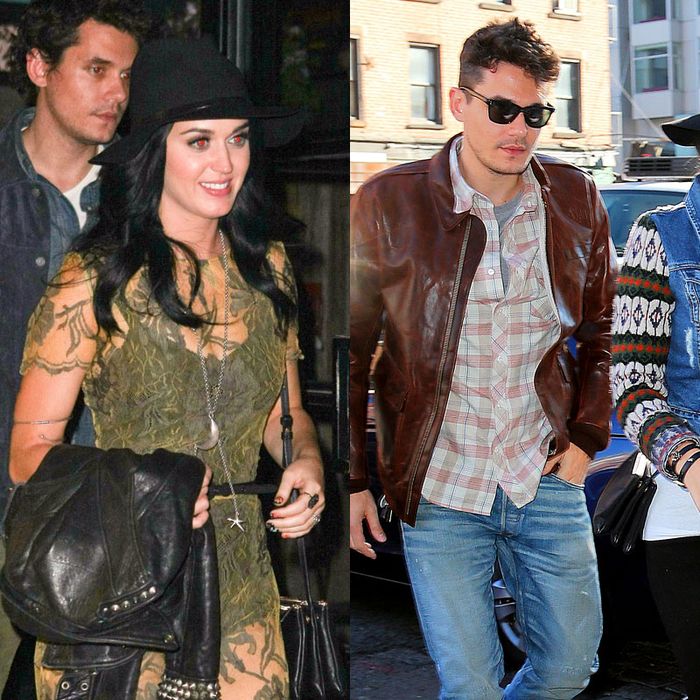 Katy Perry and John Mayer, coordinated.
Photo: INF, Splash News
If there's one thing we can learn from the tabloids this week, it's that breakups aren't always forever. And with fall weather finally settling in and the holidays approaching, sometimes it's more convenient to mend fences with one of your former flames rather than foraging for someone new. The most shocking — and dubious — example of a celebrity couple doing this recently is obviously Rihanna and Chris Brown, whose relationship status is still a matter of contention. Then there's Robert Pattinson and Kristen Stewart, who have been photographed together but are reportedly staying in separate hotel rooms during their Breaking Dawn press tour, so they're probably taking it slow or just need extra room for all the pants Kristen's bringing with her. Finally, there are John Mayer and Katy Perry, whose relationship can best be described as "on-again, off-again" or "who knows what's really going on, but they dress alike when they hang out and that's weird."
Celebrity couples often coordinate their outfits, because they know they'll be photographed and don't want to clash. But for Perry and Mayer to dress alike is odd for a number of reasons, not least of which is that they're not really officially dating, so the matchy-matchiness looks too staged. What's more, why they have decided to both go with a sort of grubby boho/casual look is disappointing, since everyone knows they're both capable of much more adventurous sartorial choices. Why couldn't they have decided to coordinate glow-in-the-dark outfits instead, or pirate costumes or plaid pants? There's still time, hopefully.
Related: 
John Mayer and Katy Perry to Never Wear Twin Hair Buns Again
Now That the 'Fireworks Have Fizzled for Katy Perry and John Mayer,' Will Baptity Rise Again?