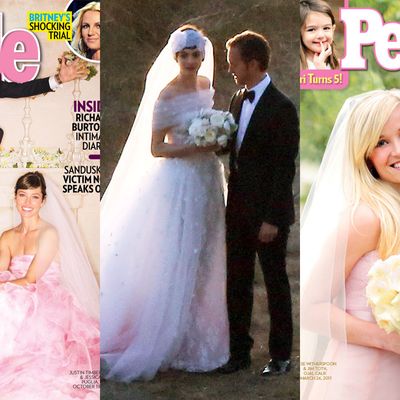 Photo: People, Splash News, People
After hundreds of years of ivory mille-feuille, bright white tulle, and pearlescent silk, it's pretty impossible to declare "trends" in the bridal market. The virginal white (or cream, or ivory, or ecru, or eggshell, or whatever) wedding dress is such a given that color is usually one decision brides don't need to make. So, last April, when Vera Wang showed an army of gowns on her runway in blood red and deep plum, the world of white briefly imploded. Especially because it was Vera.
Those dresses were pure theater, and intense red ball gowns were surely not Wang's best sellers, but they still caused a trickle-down effect. Green and peach have turned up a bit more on the runways and racks since then, and we saw some blush gowns that paired up nicely with pastels and pale colors on the ready-to-wear runways at Jil Sander and Louis Vuitton.
Now that it's high wedding season, three of the most famous brides are legitimizing the trend: Jessica Biel, Anne Hathaway, and Reese Witherspoon all wore pink this fall. And while Biel's looked the most quinceañera of the three, each felt like a nod to the new and a bid to get noticed, all without leaning too far forward or getting too bold. In Witherspoon's case, this was her second wedding, so nodding to the non-white trend made sense. But did the women choose these dresses because white finally feels boring? Is it a subtle commentary on their virginity, or lack thereof? Are they defying tradition, or just being superstitious? Did famous designer friends like Valentino and Valli, who made custom gowns for the stars, goad the ladies into it? Perhaps, but high fashion wooing Hollywood is just the start of the commercial cycle: Next summer, or even before, light pinks will show up at the mass-market stores, on your high school friends' Facebook pages, and at actual weddings you attend. Which means that The Last Big Dress Moment — Kate Middleton's laced, sleeved, and white gown — will be pushed to the clearance rack as young, trend-following brides conjure up a new princess on their wedding day: the one that's in their heads. Same old fantasy, but this time she's in Cinderella pink.