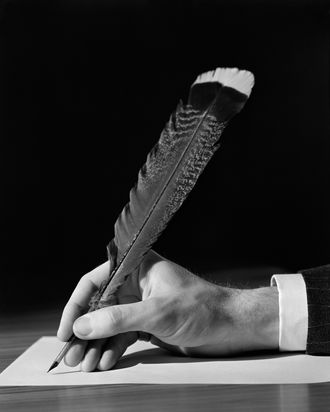 Photo: H. ARMSTRONG ROBERTS/Corbis
Forget the nineties revival, the East Asian influence, and the updated le smoking — the biggest trend to emerge from the spring 2013 shows is the open letter. So preeminent that it was first spotted in WWD before any European clothes walked down the runway,* the likes of Oscar de la Renta, Hedi Slimane, the Times of London's Laura Craik, and Refinery 29 have each drafted their own versions, and we're sure there's many, many more to come. But the best part about the open letter is you can do it yourself! In fact, we've made this fashion-world open letter template just for YOU.
Dear [designer's name/reporter's name/Grandma],
I've been closely following your [tweets/blog posts/blood-alcohol content] for the last week, and as someone who's been a part of the fashion world [for decades/since birth/since I set up my very own Tumblr yesterday], I think you're [a real dick/brilliant/in need of a makeover]. I know others have spoken out about your [guest list/review/shopping at H&M], but I couldn't see [the clothes from my standing spot/the clothes based on digital images/you come home with another pair of floral leggings]. Besides, [everyone/some people/God] knows you should [invite respected critics to your show/not be micro-blogging without spell-check/not be driving alone].
In the future, I hope [your PR team/your editor/The Talk] addresses [your use of Gothic font and MS Paint/how you can write up all of the collections just by looking online, so let's all quit right now!/getting older and wearing Spandex]. It's pretty [embarrassing/weird/embarrassing] at this point, but there's always [fall 2013/Dior/a Chico's at our local mall].
[Best/Don't forget to visit my website/Love],
[YOUR NAME HERE]
* This post has been updated from its original version. And for the record, my grandmother is not an H&M legging-wearing alcoholic, and is the best person I know.