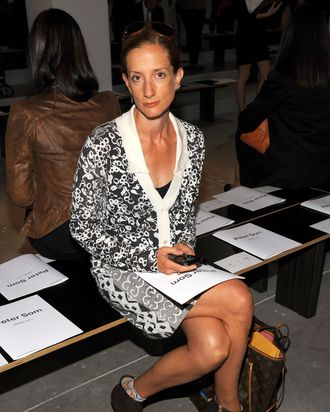 Vanessa Friedman.
Photo: Bryan Bedder/Getty Images
W magazine's Stefano Tonchi added another name to the hatful of potential Deborah Needleman successors at WSJ.: "Vanessa Friedman, the style editor from the Financial Times, is really, really talented. If she wants to work more, that would be a great job," the former T editor told Fashion Week Daily. "She knows fashion well. I don't know if she has a visual background, but she could hire a great art director."
Conveniently, Friedman herself was nearby and able to comment on Tonchi's suggestion soon thereafter: "That's very nice of Stefano! I'm very happy at the FT," she said. "My head is so in Paris fashion week at the moment, and out of New York media … It depends on what they want, and I don't know what they want." Presumably this means they haven't reached out to her … yet.
Related: So, Who Will Replace Deborah Needleman at WSJ.?