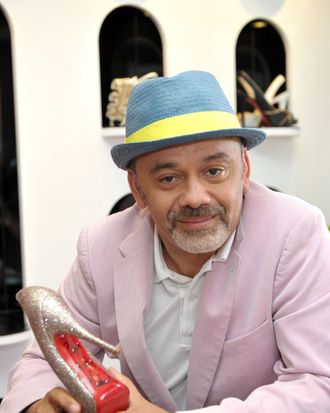 Christian Louboutin and his beloved red soles.
Photo: John Shearer/WireImage
The Christian Louboutin versus YSL case has dragged on for well over a year, and now it seems like both parties are finally willing to stick a fork in it.  Today, YSL filed a request to drop the rest of its counterclaims against Christian Louboutin, according to a brief issued by YSL's lawyer, David Bernstein. 
To review: The U.S. Court of Appeals ruled on September 5 that YSL had not infringed on Louboutin's trademark rights with their monochromatic red shoes — thus affirming a previous ruling from a district court that denied Louboutin's request for a preliminary injunction against YSL. To translate. Christian Louboutin's red sole trademark still stands, except in cases where a shoe is monochromatic, as YSL's were. So essentially, both sides can claim they won. Now YSL "seeks to close the book on litigation over red shoes" by dropping their counterclaims, states Bernstein's brief.
Speaking to us over the phone from Paris, Bernstein explained that the six counterclaims dealt with two issues that YSL now considers irrelevant. First up: YSL wanted Christian Louboutin's red sole trademark to be canceled, as they felt it was too broad, but during the litigation process, Louboutin was required to identify a Pantone color range for his trademark, thus making it more specific. The court also ruled that the trademark was only relevant if the rest of the shoe (the "upper") was a contrasting color. Bernstein says that these additional specifications have assuaged YSL's concerns. "For Yves Saint Laurent, it's a complete victory," he said.
Secondly, YSL is dropping their charges that Louboutin interfered with the sales of their shoes by contacting specific retailers and inducing them to pull YSL's red shoes from their shelves. "It was improper interference with YSL's right to sell their shoes," says Bernstein, but he notes that YSL has since made up their loss of sales by returning said shoes to store shelves, and so they're willing to dismiss that complaint as well.
So, time to bury the hatchet. YSL still gets to have their red shoes, and Louboutin gets to keep a version of his red sole trademark. "Yves Saint Laurent has decided to end what was left of the litigation and refocus its energies on its business and its creative designs," states Bernstein's brief. Thank goodness.
Related:
Christian Louboutin Won His Appeal Against YSL's Red Soles
Don't Step on My Red-Soled Shoes!