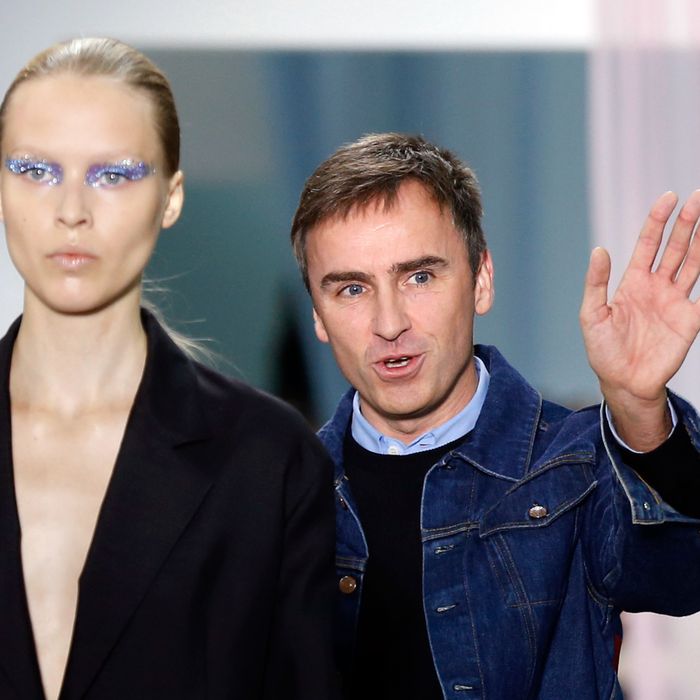 Raf Simons.
Photo: FRANCOIS GUILLOT/AFP/Getty Images
Obviously Vogue wasn't going to say anything scandalous in their extensive new profile of Raf Simons — the first that's been done since he took over at Dior —  because that's just not Vogue's "way." But even they couldn't crack the mystery of when exactly Simons was hired at Dior (namely, was it before or after he left Jil Sander?), or if even they did, they wouldn't print it. Surely it's a sensitive matter because it would reveal the circumstances under which Sander returned to her eponymous label: Was she brought in because he was leaving, or was he booted out because she came back? Journalists seem to have settled on the latter conclusion, but at this point, it doesn't really matter. Everyone likes them both, so let's move on to a more uplifting subject: Raf Simons's dear old mom and dad.
See, to understand Simons, we must understand his parents. Or so says Vogue, quoting an old friend of Simons's who says, "Look at Raf's parents, and you will see him." So, without further ado, here's all the intel we've gathered on dear old Mr. and Mrs. Simons (née Beckers) from this profile. They sound cute and normal, which apparently means he is, too.
1. They are humble country folks. "I am superproud of my parents — my mother was a cleaning lady, and my father was a night watchman in the army," says Simons. They lived in Neerpelt, Belgium, "in the middle of nowhere, a village between cows and sheep."
2. His mom is one of those sweet motherly types who feeds everybody. Namely, she makes food for his driver, Romain, to take home with him.
3. He gave them a big, adorable bear hug at his debut Dior show. "Upon seeing them, he finally gave in to emotion and collapsed into their arms."
4. His dad was "obsessed" with him playing sports. There's a picture of him as a newborn wearing tiny little soccer shoes. They probably did other normal things like kick soccer balls in the backyard.
5. Even though he's an only child (weirdo alert!), he's not a diva, because he has a big extended family. Also, he wasn't a loner: "I'd run to the next farm, where they had ten kids, and I would become the eleventh," he says.
And lo, the portrait is complete! That both his parents have adorable rosy cheeks goes without saying.
Related: What Did Raf Simons Really Know These Past Few Months?
See Raf Simons's Dior Collections.