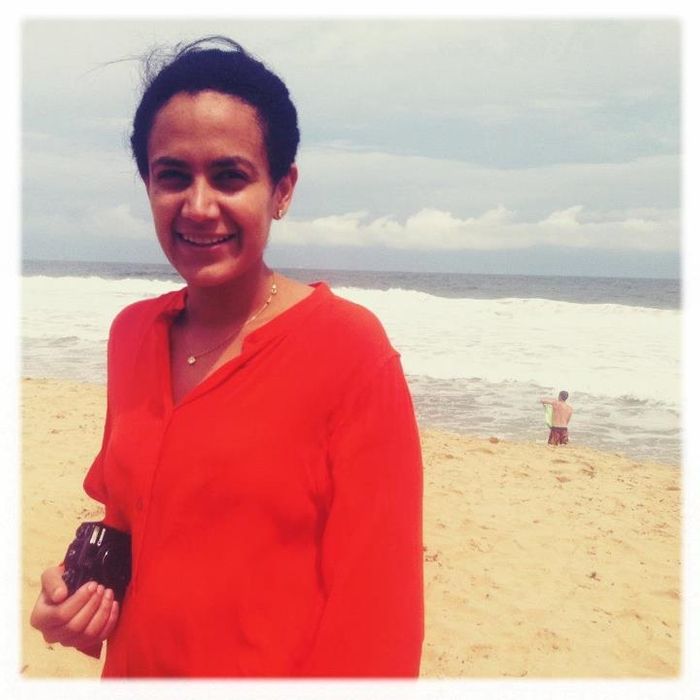 Photo: Courtesy of Yodit Eklund
Yodit Eklund runs a successful swimsuit company out of Africa, but she doesn't want to be considered a designer. "I'm not a designer, I really am not," she told the Cut. "I'm just trying to lead this movement." Bantu, it's called, and it employs around 30 Africans in Ethiopia, South Africa, and the Ivory Coast, who help produce colorful swimsuits that sell at stores like Barneys and Opening Ceremony. She launched the line in 2009, after studying environmental science and economics at UC Berkeley, with the hopes of creating jobs and helping local economy, but also to change the outside view of her home continent. "A lot of people are used to seeing images of poverty or famine, all these negative images. But actually Africa has really great beach culture, and so I thought highlighting this would help increase tourism and paint a brighter picture," she explained.
As the daughter of a refugee coordinator, Eklund, 27, has lived all throughout the continent — Ghana, Cote d'Ivoire, Sudan, Kenya, Ethiopia, and Egypt, to be precise — and has seen pretty devastating situations. "My mom's also Ethiopian so I come from one of the poorest countries in the world. I was lucky enough to be in the situation that I'm in, to have a great education, so it was really an obligation to go back and do something." She plans to expand the line into a full lifestyle beach brand, but for now it includes swimsuits, trunks, and board shorts in a huge variety of prints (men's from $90 to $120 and women's  from $150 to $200).
Tell us about your line.
Bantu is an African surf-beach-lifestyle brand and I started it because there's great surf in Africa. A lot of people are used to seeing images of poverty or famine, all these negative images. But Africa has a long history of surf from Jeffreys Bay, where there's that big competition. Also, in The Endless Summer, the cult surf film, the first location they surf at is at Angora, which is off the coast of Dakar and Senegal. Even Sierra Leone, people may know it because of the movie Blood Diamond, but Sierra Leone also has amazing surf and it used to have two Club Meds, before the civil war. So even if all these horrible things are happening, the one thing that's always there is our beaches, you know? So I thought that was super-sustainable because it would never be considered irrelevant.

What does Bantu mean?
It means gateway in Senegalese, the native language of Senegal called Walof. Senegal is the westernmost tip of Africa, so their country is the gateway to Africa, and Bantu is supposed to be the gateway to the beaches of Africa.
Tell me about the actual product.
We use normal, technical swim fabrics for board shorts, like Lycra, but we work with African designers to develop all of our prints, and it's based off wax cloth. Originally, wax cloth was brought over by Dutch traders, and it basically stuck and it's a vital aspect of African culture today. We use the prints of wax cloth and then we print on technical fabric because you can't actually use wax cloth for swimsuits because it has to be water-treated. We have to print the fabric in Italy. There's no manufacturing capabilities in Africa to print the fabric, but it's all cut and sewn in Africa.

Is it more difficult to produce in your country and how do you deal with that?
It's just a decision you have to make, either you're going to do it or you're not. I spend a lot of time in Africa overseeing production, and because we are a print brand, our styles don't really have to change too much. So we have three styles of board shorts, and their prints change every season, but the board short itself, that doesn't change. So we're able to train people to make something which is super-sustainable. It's the fact that we're not complicating [the process]. Our women know how to make seven styles of swimsuits, but we have so many prints that it ends up being a pretty big collection.
Your tagline is "Join the Tribe." What does that mean?
To "Join the Tribe" means to start exploring. Hopefully more people start visiting, hopefully people will start manufacturing in Africa, I hope people's perceptions of Africa change. 
Aesthetically, what inspires you about Africa?
If you look at the African women in the marketplace, it's super-inspiring because they're all dressed in these crazy, colorful fabrics. The way they wrap the cloth around them with beautiful draping, yet they have a baby on their back and they're selling pineapples off their heads — it's super-functional at the same time. So that's what inspired the swimwear. The prints are great, with beautiful colors, but it's also super-functional. You can go surf in my swimsuits.
Why do you think you've been successful?
So many people from Africa would come up with a brand using African prints. No one has really translated those colors to the beach before. People have seen a lot of African print on the runway in like high, high fashion. This is something that's actually wearable. It's not such a big commitment. When you put on one of my swimsuits, you feel like you're somewhere tropical. So I think there's this emotional value more than "oh, it's made in Africa."
How do you measure your success?
I was in Ibiza, and I saw two girls wearing Bantu swimsuits and neither of them had any idea of how it was made. For me, that's my biggest success because the swimsuits have to be sustainable on their own. I don't want to ever have to rely on someone making a pity purchase. The point of the brand is that it grows and it can pull in more people and be super-sustainable.
What would you say is your biggest challenge of having a business in Africa?
Deadlines. Africans aren't so good at timing.

Stir It Up Bikini in fans print, $160

Bantu High Tide Bikini in pebbles print, $165

Bantu Stir It Up Bikini in lotus print, $160

Bantu OG Bandeau Bikini in fans print, $165