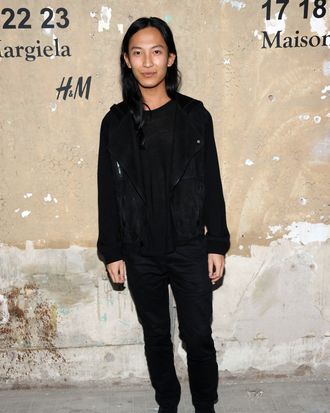 Alexander Wang.
Photo: Jamie McCarthy/Getty Images
Less than two weeks ago, Christopher Kane was deemed a shoo-in for the head designer role at Balenciaga, which will be officially vacated by Nicolas Ghesquière tomorrow. But now Alexander Wang has emerged as the leading candidate, according to French newspaper Le Nouvel Observator, which also started the Kane rumor. Cathy Horyn backs up the report in today's Times, stating that an announcement of Wang's appointment at Balenciaga could come as early as next week.
No one from Wang's camp returned phone calls to either Horyn or Le Nouvel Obs, but if he is named, it'll signal a big change at Balenciaga. Horyn, who wrote just two years ago that Wang "is not a great designer … [and] doesn't really have courage in the traditional sense of trying something new and difficult," notes that he'd bring an urban, youthful flavor to the French label. What's more, she points out that Wang's move to Paris would open a lot of doors for his career (which is doing just fine here in New York, by the way).
So what will become of Kane, who left his post at Versus last week and is now reportedly in talks with PPR about getting financial backing for his eponymous line? Maybe his dealings with Balenciaga fell through, Dior–Marc Jacobs–style, or maybe he really is just taking some time to beef up his own label, as designers always claim to be doing when they're really hunting for a new job. 
Either way, it's good to see that the process is moving along. Surely everyone wants this settled before Christmas, right?
Related:
Christopher Kane to Helm Balenciaga? Designer, Fashion House Respond [Updated]
PPR Might 'Invest' in Christopher Kane
Christopher Kane to Leave Versus, Didn't Accept Any Other Jobs Over the Weekend