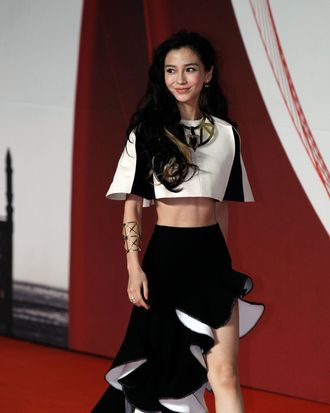 Angelababy in her new Balenciaga.
Photo: Kin Cheung/Corbis
Today, a Chinese celebrity who goes by the name of Angelababy wore a skirt and top from Balenciaga's spring 2013 collection, which we all know now was Nicolas Ghesquière's last for the brand. This was a very clever move on her part, as today's the day when wearing Balenciaga will get you tons of Google hits, and American bloggers will stumble upon your photo and decide to read your Wikipedia page, which is a veritable treasure trove of passages like this one:
 [Angelababy] also starred in the Japanese web drama Tweet Love Story in July 2010. The basis of the drama is audience participation via Twitter; four of the scenes contain a missing line spoken by Angelababy that are later completed from selected viewer tweets with the hash tag #tweetlovestory.
And better yet:
On 7 September 2010, Angelababy refuted allegations that she has performed plastic surgery on her face, claiming that she had visited a cosmetic surgeon to officially verify the fact.
To explain: She didn't go to the plastic surgeon to get actual plastic surgery, she went to verify that she had not, in fact, gotten it already! You can probably understand why we're now officially fascinated by this character and will be forever grateful that she took advantage of this Alexander Wang hoopla and caught our eye with her Balenciaga. You see, there really are no coincidences.