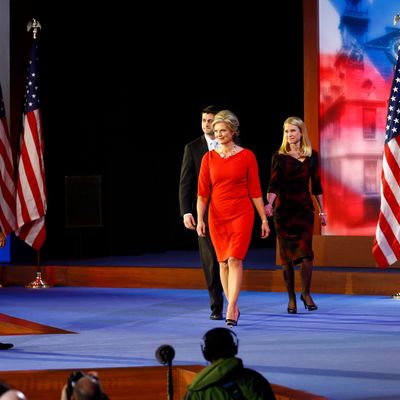 Ann Romney's concession outfit.
Photo: Matthew Cavanaugh/2012 Getty Images
After a prolonged wait for Mitt Romney's concession speech, we finally heard his prayers for America and got to see the last outfit Ann picked as First Lady hopeful. Was this the same dress she was planning to wear had Mitt won? Perhaps we'll never know. The dress she chose was red, of course, and relatively unremarkable, with a boatneck, three-quarter sleeves, and a knee-length hemline. She paired it with black patent pumps, a necklace made of large, milky gemstones, and a rare updo. As she has throughout her husband's campaign (well, most of it), she looked composed and elegant. So long, Ann! It's been real.
Related: Ann Romney Versus Michelle Obama: Two Women, 30 Days