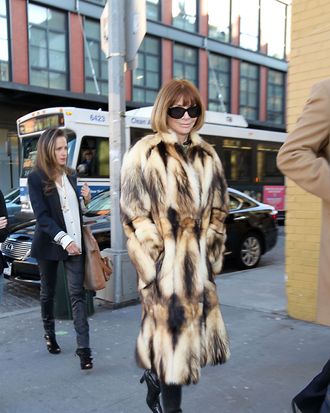 Photo: Jennifer Mitchell/Splash News/Corbis
The Vogue editor and International Obama Bundler sat down with the Telegraph to talk, among other things, about the election results. She said, "It's no secret that I worked very hard for the president this campaign … And it's very rewarding to see that money can't buy the White House, which is what the Republicans were trying to do with all those hundreds of millions of dollars that the Super PACs were raising." More commentary that we can print out and put in our limited-edition Prada binders! "I'm so grateful that the president will have a second term," she added.
Anna also seems grateful that Michelle Obama was elected to a second term, too, remarking, "Look back at the history of First Ladies and you'll see they wore a good suit or a ball gown. Now we have someone who wears J.Crew or Thakoon or Azzedine Alaïa: a gamut of different designers. She has changed the way American women see fashion." As for Anna's role in all of this — the election, fashion, life:
She seems almost embarrassed when I describe seeing a young woman crumple in an excited faint at the arrival of Wintour, flanked by bodyguards, during a recent show. "Well," she harrumphs: "I'm sure that's not the case. I'm just there to do my job, and the celebrity factor is not something I think about." That bouclé bucks as she shrugs dismissively: "What does celebrity do? Maybe it gets you a good table at a restaurant, or a ticket to a play." Her focus, she insists, is on "the people one meets, the talent one can help, and trying to show a world to my readers that they will be as excited about as we are."
HARRUMPH. Modesty is sooooo in right now.