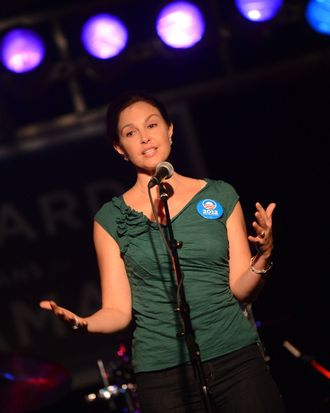 Photo: Rick Diamond/Getty Images
Kentucky native Ashley Judd took to the pages of Us Weekly to quash the rumors that she was a top contender to challenge Republican senator Mitch McConnell in the 2014 election. First you've heard of it?
The actress and activist's name was floated by Kentucky representative John Yarmuth, who sounds like he's got a crush on the nineties thriller heroine.
"If you had an Ashley Judd-McConnell race, I think it would be as high profile a race as Elizabeth Warren and Scott Brown," Yarmuth told the Courier-Journal. "The money would pour in here as soon as she entered the race."
If Judd is considering a bid, Kentucky voters should note that she has already mastered the non-denial denial. She told Us:
"I cherish Kentucky, heart and soul, and while I'm very honored by the consideration, we have just finished an election, so let's focus on coming together to keep moving America's families, and especially our kids, forward."