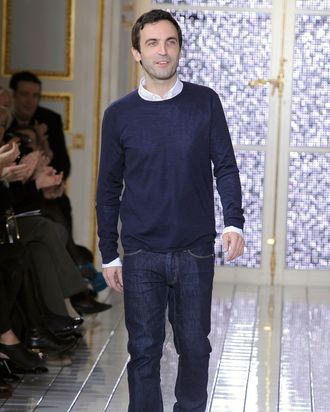 Photo: Chris Moore/Catwalking/Getty Images
Today, WWD ran a lengthier article on Nicolas Ghesquière leaving Balenciaga, with quotes from the fashion house's CEO Isabelle Guichot, who told the newspaper that his replacement would be announced "as soon as we're ready," adding, "We have a short list." Guichot didn't name names, what with WWD capable of doing so for all of us:
According to sources, Alexander Wang and Joseph Altuzarra could be among the candidates, given their press following and modernist fashion leanings. Kostas Murkudis and Bouchra Jarrar, an alumna of Balenciaga, are among lesser-known possibilities.

According to sources, talent scouts at PPR have also been keeping an eye on hot talents in London, who include Mary Katrantzou, Christopher Kane, J.W. Anderson and Thomas Tait.
And more ideas: Lazaro Hernandez and Jack McCollough; however "other sources dismissed that possibility given their new ownership and the designers' focus on building" Proenza Schouler. Wow! These sources will say anything. In any case, it's not too difficult to imagine Altuzarra or Katrantzou, really, taking the helm — but the best choice would be for Balenciaga to pick someone, anyone in fewer than twelve months.