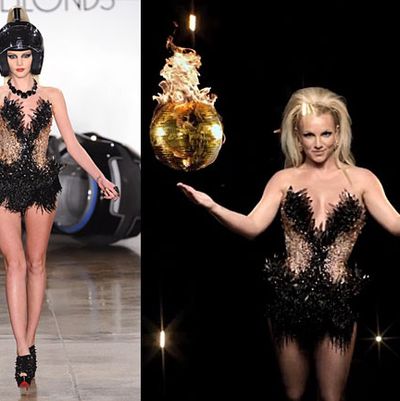 On the runway (left), on Britney (right).
Photo: Courtesy of The Blonds
On last night's X Factor, Britney Spears released her first music video in quite some time, titled "Scream and Shout." A collaboration with will.i.am, the footage consists mostly of them multiplying into dancing quintuplets against a white background, interspersed with the occasional "fancy nightclub" backdrop. Britney wears her hair in a stiff, back-combed nest and switches between several unremarkable black outfits, with one standout exception: this fabulous sparkly corset by the Blonds, which is basically a disco ball in leotard form. Part of the Blonds' fall 2012 "Live Fast Dye Blond" collection, this outfit shares several scenes with an actual disco ball that, for reasons unknown, emits flames. Watch the full video here.