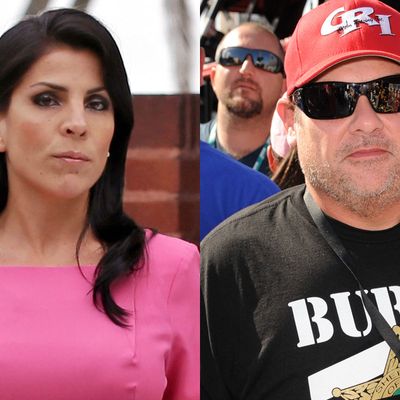 Photo: Corbis, Getty Images
It is a truth universally acknowledged that all tawdry shit-shows occurring in Tampa must be in want of a Bubba the Love Sponge cameo. And at long last, the radio shock jock, who makes a literal cameo in Hulk Hogan's sex tape, has been implicated in l'Affair Love Pentagon. The Tampa Bay Times reports that, like so many four-star generals before him, Bubba had diplomatic dealings with "Tampa socialite" and "honorary ambassador" Jill Kelley:
[A]fter reports that American personnel in Afghanistan had burned Korans, enraging Muslims … Tampa Bay shock jock Bubba the Love Sponge Clem said "we are going to deep fat fry" the Koran, according to a news report from WMNF-88.5 FM radio.

In response, top officers at MacDill reached out to the mayor to try to talk the DJ out of a publicity stunt that could have endangered troops.

[Tampa Mayor Bob] Buckhorn also heard from Kelley, who said she had just gotten off a phone call with Gen. Allen and Vice Adm. Robert Harward, the deputy commander of CentCom, and needed the mayor's help "with the potential crises we'll be dealing with."

"If it involves the radio station, we are working on it," Buckhorn replied.

"They asked me to get involved, like I did when it happened with the Pastor last year," she emailed back.

"This Bubba the Love Sponge is a complete moron," Buckhorn told her in response.

The Koran-burning never took place.
So it turns out Jill Kelley really was a critical diplomatic liaison! Or at least enough to justify using that title when she ends up on a reality show in the near future. Someone get Michaele Salahi in here, we're casting for Real Diplomats of "Complete Morons."