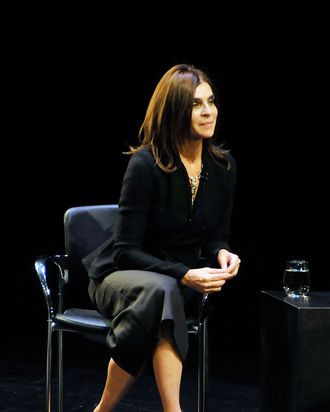 Photo: Daniel Zuchnik/Getty Images
In what began as what each called "a blind date," Klaus Biesenbach, the director of MoMA PS1, and Carine Roitfeld ended up planning a collaborative curatorial project by the end of last evening's interview at the FIAF. As moderator, Beisenbach described himself as a fashion-world outsider, which perhaps influenced Carine to explain she doesn't really deal in fashion, either. "I think my product is a dream; I think I'm a dreamer," she told the audience. "If a dreamer is an occupation, it's a lot of fun."
As a sometimes New York resident, she holed up during Hurricane Sandy uptown at the posh Mark Hotel, where supposed rival Anna Wintour was also staying. "I saw her once from far away at the lunchtime of day, but that's it," Roitfeld told the Cut. "I don't think she's the sort of person who spends time for tea. She has no time for that." Still, the French editor insisted the only reason the two didn't exchange greetings was because Jean Georges's restaurant was simply too big; they were too far apart.
So does that mean there's no rivalry?
"Never," Roitfeld explained. "This, the press tries to do. I've worked with her. She's very helpful. We're so different, but I think she's very special," she said, before adding, "She invited my kids for dinner when they arrived in New York." Oh, to be a fly on that wall. Menu suggestions in the comments below.