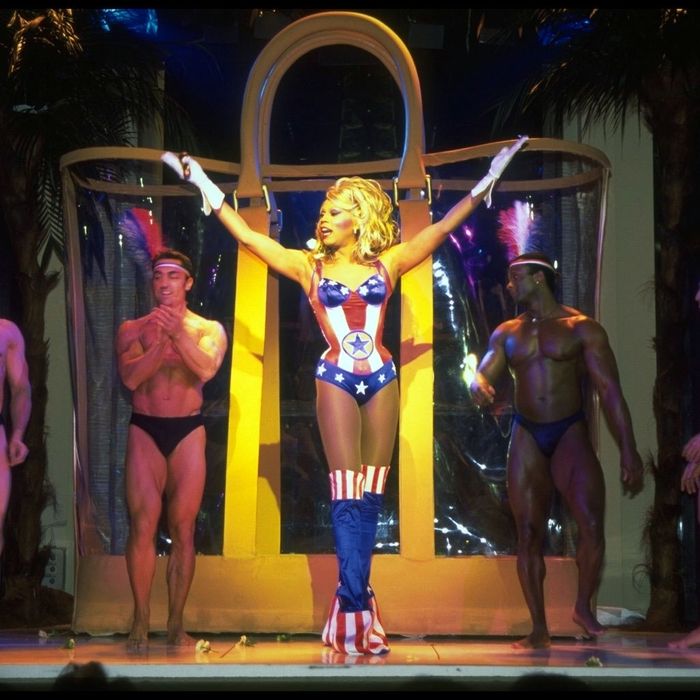 RuPaul, victorious.
Photo: Eric Robert/Corbis
Just a few days before RuPaul's awesome-sounding Drag Race at Sea cruise departs from Miami, Carnival Cruise Lines sent out an "Urgent Notice" last night informing guests that they're not permitted to dress in drag. Only "performers" — i.e., RuPaul and other Drag Race winners — will be allowed to do so during private events behind closed doors. 
From the e-mail:
Carnival attracts a number of families with children and for this reason; we strive to present a family friendly atmosphere. It is important to us that all guests are comfortable with every aspect of the cruise. Although we realize this group consists solely of adults, we nonetheless expect all guests to recognize that minors are onboard and, refrain from engaging in inappropriate conduct in public areas.

Arrangements have been made for drag performances in the main theater featuring stars from LOGO TV. These functions will be private and only the performers are permitted to dress in drag while in the theater. Guests are not allowed to dress in drag for the performances or in public areas at any time during the cruise.

We're sorry to say that any guest who violates our policies and/or whose behavior affects the comfort and enjoyment of other guests, will be disembarked at their own expense and no refund will be given.
A passenger on the cruise tells us that RuPaul's guests were originally supposed to have their own ship, which would've allowed them to dress as they pleased; however, so many tickets were sold that Carnival put them on a bigger boat that's also carrying non–Drag Race at Sea passengers.
Surely anticipating a backlash, one of the RuPaul cruise's organizers Al Ferguson of Al & Chuck Travel (which bills itself as "America's #1 Gay Vacation Specialist") sent a follow-up e-mail to support Carnival's regulation. Ferguson assures guests that Carnival's decision is not discriminatory, but rather for safety purposes. He writes:
We are sympathetic to your sentiments that you have expressed via email and social media. As a gay man who has been partnered for 25 years, I have suffered many forms of discriminations because I am part of the GLBT community. But please take note, Carnival's regulation is NOT an example of discrimination. Carnival is an ally of the GLBT community. Please understand that this cruise could not even be happening on the GLORY if Carnival was not an ally of our segment of society. When they say they are a "family friendly" cruise line they mean it in both the traditional and metaphorical sense of the phrase.

Carnival's "no costumes rule" is NOT meant to be an insult to the gay community. As a gay business, we would not have organized this cruise if they were prejudiced against gay people. This rule goes for both GAY and STRAIGHT passengers that travel on all Carnival cruises. It is in response to the post-911 world we live in. It is meant to protect passengers and guests - NOT to marginalize a few.

Additionally, we know that transgendered members of our community will be aboard with us during this event. Please do not worry, Carnival's rule is not meant towards you. Your right to live your identity is always supported.
UPDATE, 4 p.m.: Carnival has sent another email reversing its non-drag regulation and apologizing for any offense. They attributed their original email to "miscommunication" between themselves and Al & Chuck Travel, RuPaul's cruise organizers. From Carnival president and CEO Gerry Cahill:
When the group was presented to us we were advised that only the performers would be dressed in drag during the private events. However, we are now aware that this was not clearly communicated to members of the group and therefore anyone who wishes to dress in drag may do so. Please keep in mind that our safety and security procedures require guests to present government-issued ID, and to be recognizably that person.

At Carnival, we are proud to carry more than 4.5 million guests every year and we welcome them all aboard. We do not practice any form of discrimination against the LGBT or any other community. We sincerely apologize for the miscommunication and for any unintended offense we have caused.

Given this misunderstanding, anyone on this cruise who wishes to cancel for any reason may do so and will receive a full refund of their cruise fare, as well as reimbursement for any non-refundable travel related expenses.
So, from "disembarked at their own expense" to full refunds and apologies! What a difference a day makes. Party on, folks. 
Update 2, 6 p.m.: Al & Chuck Travel has issued their own statement in response to Carnival's ban reversal:
As you are probably now aware, a very positive announcement has come directly from the President of Carnival Cruise Lines.  Al has spent much of the day today with the cruise line executives, fine tuning many of the issues our guests have faced from the email and other items brought to our attention.  Every issue was immediately and promptly responded to by the cruise line. Please view the cruise lines bulletin for complete details. We especially appreciate the President making a special point to say "We look forward to welcoming everyone onboard Carnival Glory and again want to apologize for the misunderstanding and for any offense we have caused." On behalf of everyone at ALandCHUCK.travel we would like to again express support for Carnival and we do not believe they intentionally meant any offense to our guests and are glad they have taken the extra steps for clarification. This does not diminish your feelings or how you feel about the initial announcement and we wish to say we understand and heard you loud and clear.
A guest on the cruise tells us he's relieved that he'll be able to wear all the outfits he bought in advance. Via email, he writes:
I've been planning this trip for almost 9 months and when I received the news, I was in disbelief… I spent thousands of dollars between the suite and wardrobe for these theme parties too. I work in fashion and a queen has to represent! I don't do "Party City"… I honestly believe if it wasn't for Twitter & Facebook this decision wouldn't have been made so quickly. Im glad Carnival retracted. Now I can wear my Givenchy heels with pride!
Amen.