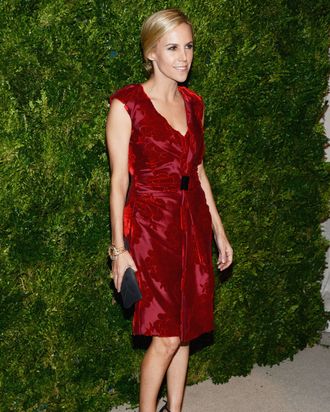 Tory Burch.
Photo: Dimitrios Kambouris/2012 Getty Images
While we breathlessly await Judge Leo Strine's next monologue on the Burches' WASP qualifications, Tory Burch spoke to CNN's Alina Cho at the Metropolitan Museum of Art in New York on Wednesday about her ongoing legal battle with ex-husband Chris Burch. And now we can officially add another thing to their long list of disagreements: whether or not to take Tory Burch LLC public. Chris has said before that he wants to, and Tory doesn't; last night, she explained why. From WWD:
It's not something I've ever thought about clearly and it's not going to happen anytime soon. I am personally not ready to be a public [chief executive officer]. Privacy [is what I would lose.] I am not saying exactly that one day it won't happen but for now it's not in the cards.
And despite all these fighting words, she just wants what's best for the kids:
At the end of the day, my priority is with my business and my children. I have six children with Chris that he and I care about and that's what I think about. But also [there is] my team that I look at and I think this is extraordinary what we have built together. My focus is finding a solution and hopefully we will get there and then we will be better for it at the end.
(Note: She has three sons with Chris and three step-daughters from Chris's first marriage.) Anyway, since Judge Strine made it perfectly clear that he won't "burden anyone's Hanukkah, New Year's, Christmas, Kwanzaa, Festivus with this preppy clothing dispute," this mess will just tread water through the holidays and drag on into 2013, muddying the pond for any IPO plans in the near future. Really, if Chris wants the company to go public, suing its board is not the best way to go about it.
Related: 
Tory Burch Finally Got Around to Countersuing Chris Burch
Judge on Burch Trial: 'Are the Burches WASPs?'