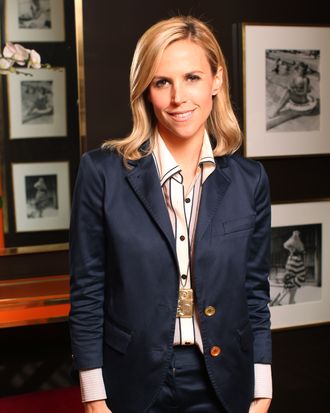 Tory Burch.
Photo: Thomas Iannaccone/Corbis
Whether Chris Burch has grounds for his various lawsuits against ex-wife Tory and the members of her company's board is up for courts to decide, but the matriarchs of New York fashion have made their positions known in this month's Vanity Fair. From Diane von Furstenberg:
What I find bizarre and nasty, and can't possibly finish well for him, is that he is … hurting [her business] by sabotaging it, by copying it. I don't understand.
She is referring, of course, to the fact that Chris Burch still owns a sizable stake in Tory's eponymous company. He has accused her and fellow board members of deliberately sabotaging his new brand, C. Wonder, which in turn has been accused of selling knockoffs off Tory's products. Indeed, while Chris is in the process of selling his shares of Tory Burch LLC, it's obviously weird that he'd want to harm a company of which he's still a direct beneficiary. 
Meanwhile, Anna Wintour takes Tory's side, too. After all, Tory's a much cuter party guest.
The person who has been at every single appointment over the years is Tory … Tory is the one who has always talked to us about her aspirations, and her ideas for growth, how she saw the brand, asked advice on people she might want to bring in — it's always been, as far as we're concerned, 100 percent Tory's business, and we've never had anything to do with Chris.
Just imagine the great lineup of witnesses on Tory's behalf should this go to court! It probably won't, but we can always dream.