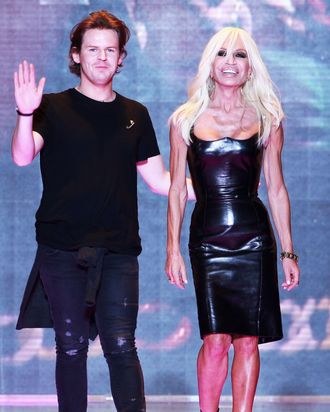 Photo: Vittorio Zunino Celotto/Getty Images
So, how was your weekend? Christopher Kane's was a doozy! The designer, who oversaw Versace's younger label since the fall/winter 2010 season, is leaving his post, as announced this morning. To quote WWD: "By mutual agreement, the company and Kane, who worked with Donatella Versace on Versus, have parted ways." By. Mutual. Agreement. Parted. Ways. It's not as if Kane was offered a job as creative director at a PPR-owned fashion house and decided to paix out. This was all well-planned. WWD continues:
The Milan-based firm said it plans to reposition its younger brand as a season-less line with a strong digital element that will be designed by Donatella Versace in collaboration with a number of yet-to-be-named young designers, stylists, and creative talents. Together, they will develop capsule collections, co-branding projects and limited editions under the Versus moniker.
An executive told the paper that Versus plans to show new collections at special events — the first set for next spring in New York — and not at fashion weeks. The same executive was also on hand to reiterate that Kane and Versace's relationship "evolved naturally and matured, so that this was the right moment and a logical decision for everyone. We started thinking about the new Versus months ago, before the summer."
Regarding the rest of the Kane Saga, both the designer and Balenciaga are standing by their statements ("rumors" are "unfounded," and no decision has been made, respectively). Le Nouvel Observateur's post claiming Kane scored the Balenciaga gig is still live, and the editors we e-mailed there haven't replied — though we're expecting a "told you so" in two to three weeks … or nothing, because they're French.