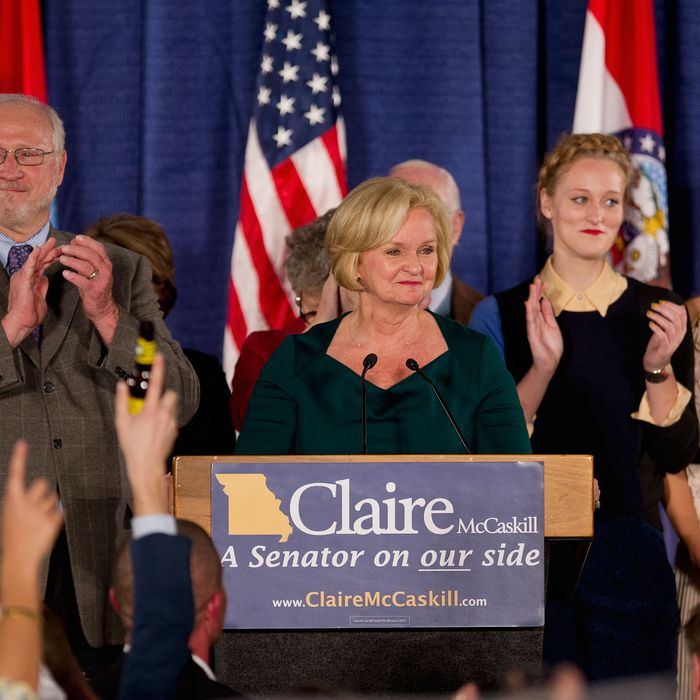 Photo: Whitney Curtis/Getty Images
The first thing you need to know about Missouri senator Claire McCaskill's daughters — who were widely applauded this week for bringing buttoned-to-the-top collared shirts and red lipstick to stodgy election-night fashion — is that they are not the McCaskill girls. Their last name is Esposito. "My mom didn't change her name when she got married," explained 23-year-old Maddie, the one in the pleated dress. "Either time." A recent New School graduate, Maddie left her job at a New York nonprofit this year in order to help out with her mother's bid for reelection against pro-life extremist Representative Todd Akin. Lily, with the crown braid, turns 21 on Monday and is majoring in sociology and gender studies at Hunter College. After McCaskill's race became the most prominent electoral battle against the GOP rape caucus, Maddie and Lily gamely added "election meme" to their résumés. The Cut asked the sisters about Akin, their personal style, and fellow political daughters the Huntsman girls and the Obama girls.
Your mom's race gained national attention after Todd Akin's "legitimate rape" remarks. Did anything change for you after that?
Lily: Not really, because I knew he was that extreme. The country just didn't know it yet. However, I really regretted my decision not to take a semester off! I wanted to be where the action was.
Maddie: We were just kind of stunned. The night he said it, my mom made me write down his statement on a notecard so we could memorize it together on the drive to the TV studio. We were afraid the media wouldn't report the full quote, which seems very quaint in retrospect. I don't deny that it changed the race, but I'm still confident she could've won, even without the comment.
How did you celebrate her victory?
M: Drank heavily.
L: This was the first election I was old enough to stay up with the adults, so it was really fun.
The next morning, style blogs had declared you a "pleasant surprise" and the "style breakout stars" of the election. Tell me about your style.
M: I like a lot of ugly things, like mixing three different patterns in the same outfit and wearing shoulder pads. I'm not a big fan of matching. There is nothing that can't be improved with a bold lip. The dress I wore on election night is from BCBG.
L: The blue-sleeve sweater and my pants were Theory. I found the top at Beacon's Closet. As for my style, I like dressing like a boy most of the time.
I read on the Atlantic Wire that you coordinate your outfits so you don't look like twins. Do you share clothes?
M: Lily always steals my clothes, which I'm sure all older sisters can relate to.
L: Maddie and I do have really different tastes, but we still always want to wear each other's clothes. There have been many fights over stolen items.
You both say you don't have political ambitions, but I heard you came up with a really good political Halloween costume last year.
M: Ha ha! We dressed up as the Huntsman daughters impersonating Herman Cain's chief of staff, Mark Block. [Editor's note: Best known for his smoking role in a bizarre campagin ad, remember?]
L: The costume was really last-second.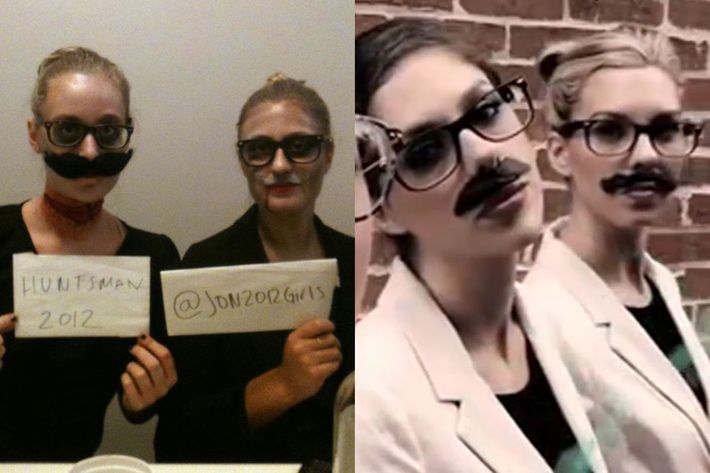 How would you compare yourselves to America's other favorite political daughters, Sasha and Malia?
L: The Obama girls are flawless and way much cooler than we are.
M: I'd like to think that someday I could be as cool as the Obama girls.