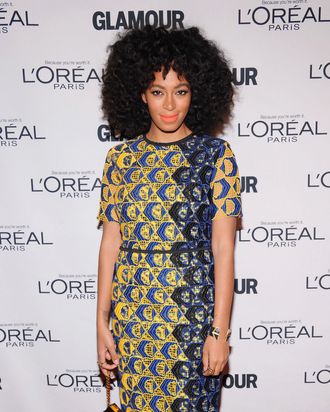 Photo: Jamie McCarthy/Getty Images
According to Styleite, singer Solange Knowles is the latest instance of the TSA going overboard with their search techniques. Initial reactions called the agency culturally insensitive, while others claimed agents stepped outside their job protocol. But, look, if you're bringing anything bulky through the airport security line, chances are you're going to be searched. Maybe you have big boobs or wear one of those Victoria's Secret bras that looks like a flotation device. Maybe your wardrobe has the bustles and billows that force fashion writer Lynn Yaeger to change in the bathroom before she steps up to the line. Maybe you've got a fantastic Afro. If so, the TSA will prod and poke for daggers, fireworks, bottles of Diet Coke, tubs of face creams, and, of course, bombs.
Sure it's a major invasion of personal space — we feel bad for that 95-year-old lady who had to get her adult diaper checked — but these men and women are just doing their job. And, hey, one guy did actually have a bomb in his underwear recently. Not that Solange would ever wire up her 'fro. But if she's dressing to get noticed, we're glad the TSA is paying attention, too. Here's hoping she shared some tips with them.