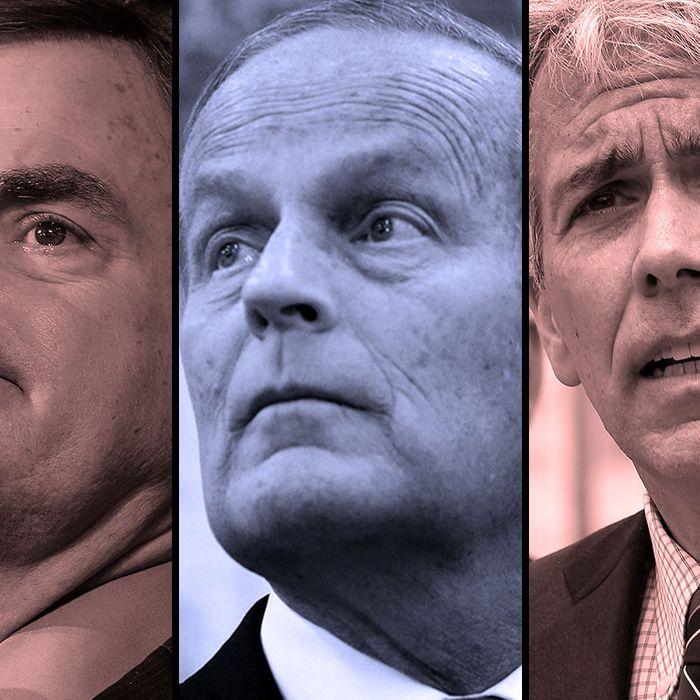 In an election season in which the Republican Party learned the limitations of appealing almost exclusively to white male voters, a handful of otherwise anonymous white, male, Republican candidates distinguished themselves with a questionable grasp of human reproduction and some disturbing perspectives on rape. Here's how they fared tonight.
GUY: Missouri Representative Todd Akin, challenging incumbent Democrat Claire McCaskill for her U.S. Senate seat.
GAFFE: Akin lost his early lead for his now famous explanation of "legitimate rape," explaining that "the female body has ways to try to shut that whole thing down."
OUTCOME: Loss. From what I understand, democracy has ways to shut that whole thing down.
GUY: Indiana State Treasurer Richard Mourdock, running against Democratic Representative Joe Donnelly for one of Indiana's U.S. Senate seats.
GAFFE: Mourdock used tea-party support to oust longtime Senator Richard Lugar in the Republican primary, but revealed he was a little too extreme when he came out against an abortion exception in the case of rape, saying, "life is a gift from God — and I think even if life begins in that horrible situation of rape, that is something that God intended to happen."
OUTCOME: Loss, kind of. On the issue of abortion, Mourdock and his victorious opponent disagree only on the question of pregnancies resulting from rape. Pro-lifers are a gift from God, even in the horrible situation of Democratic victory.
GUY: Freshman Illinois Representative Joe Walsh, challenged by Democrat Tammy Duckworth.
GAFFE: In a race marked by personal attacks — Walsh said Duckworth was too busy "picking out a dress" for her DNC appearance to campaign, Duckworth said Walsh was a "deadbeat dad" — Duckworth pulled ahead after Walsh said that thanks to "modern technology and science," abortion is never necessary to preserve the life or health of the mother.
OUTCOME: Loss, definitive. According to modern technology and science, Duckworth led Walsh 56.3 percent to 43.7 percent with 41 percent of votes counted.
GUY: Iowa Representative Steve King, challenged by former state First Lady Christie Vilsack.
GAFFE: King defended his support for legislation that would allow federal Medicaid funding to cover abortions for pregnancies resulting from "forcible rape" but not statutory rape by saying that he just hadn't "heard of that being a circumstance" that's been brought to him "in a personal way."
OUTCOME: Win. Although I do not personally know anyone who voted for him, this is technically possible.
GUY: Freshman Wisconsin State Assembly member Roger Rivard, challenged by Democrat Steve Smith.
GAFFE: This obscure race gained national attention after it was discovered that Rivard had told a local newspaper that his father taught him to be careful about premarital sex because "consensual sex can turn into rape in an awful hurry," if she regrets it or is underage or gets pregnant and her parents are mad. "Some girls, they rape so easy," he said repeatedly.
OUTCOME: Loss, poignant. After turning his district red for the first time in decades, Rivard lost to a hardware store owner (small business!) with whom he went to Catholic school (religion!), by about 600 votes.
GUY: Washington County Council member John Koster, a former farmer, making his third bid for a congressional seat against a wealthy former Microsoft executive, Suzan DelBene.
GAFFE: Asked by a liberal activist if he'd ever support abortion (and despite many cautionary tales above), Koster said that when it comes to "the rape thing, it's like, how does putting more violence onto a woman's body and taking the life of an innocent child that's the consequence of this crime, how does that make it better?"
OUTCOME: Loss, unexpectedly decisive. When it comes to "the rape thing" thing, alienating women does not make a poorly financed campaign better.