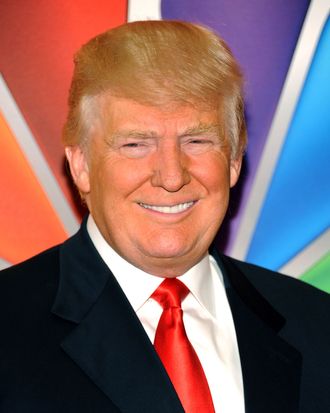 Photo: Evan Agostini/Corbis
Per the Internet, more than 466,000 people have "signed" an online petition that calls for Macy's to "dump Trump," whose clothing line and fragrance are sold in stores. From SignOn.org:
Macy's: Donald Trump does not reflect the "magic of Macy's." We urge you to sever ties with him. Macy's says it has a strong obligation to be "socially responsible" and that "actions speak louder than words." Indeed. It's time to act.
It continues, "Trump engages in especially unpleasant, nasty and despicable behavior," including, "Perpetuat[ing] the racially charged birther conspiracy, repeatedly arguing that President Obama has been lying and was not born in the United States." Speaking of, Macy's Miracle on 34th Street–themed holiday ads star Trump as the skeptical Susan-like character. The Times, which got a look at the campaign last week, wrote:
For example, Mr. Trump asks Gwenn, "What's with the get-up, Kris?" to which Gwenn replies, "I'm Santa Claus." Mr. Trump says, "Let me see for myself" and pulls his beard, to which Gwenn responds, "Ouch!"

The commercials end with Gwenn saying to Mr. Trump, "If I can win you over, there's still hope."
Along with the list of folks who put their names on the petition, another person Trump won't win over is Cher. (Yes, that Cher.) She tweeted: "I'll NEVER GO TO MACY'S AGAIN ! I didnt know they sold Donald Trump's Line! If they don't care that they sell products from a LOUDMOUTH … RACIST CRETIN,WHO'D LIE LIKE 'HIS RUG' TO GET SOME CHEAP PRESS ! I CANT BELIEVE MACY'S THINKS HE'S THE RIGHT 'MAN'$2 2 REPRESENT THEIR NAME !" By now, Cher can probably turn back time. We should really listen to her.