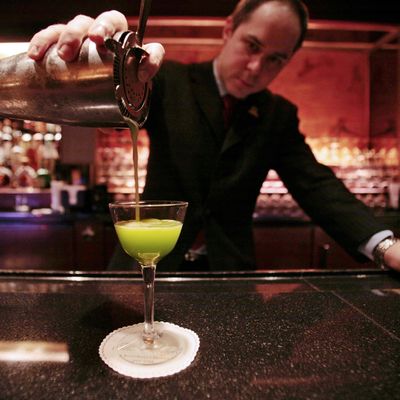 Photo: Bloomberg/Getty Images
With its storybook wall murals, nightly jazz trio, and painfully early last call, Bemelmans is an unlikely destination for Manhattan scenesters. But during the past week, the tiny, dowdy bar at the Upper East Side's Carlyle Hotel has played hurricane host to droves of young downtown fashion types like, on Thursday, Man Repeller's Leandra Medine and designer Erin Fetherston.
"Everyone we've ever met is here," said Refinery 29's Kristian Laliberte. "Met in quotation marks."
The hotel confirmed that it has seen "extra activity" due to Hurricane Sandy. "Tables have been very hard to come by, even in the afternoon, and have been filled with residents who have fled lower Manhattan to work and socialize at the Carlyle," spokeswoman Jennifer Cooke said.
Laliberte is staying at the Carlyle with his parents, coincidentally in town from Massachusetts. Dubbing the bar "the Uptown Boom Boom Room," Laliberte asked, "Who knew that the Carlyle would be the place to be?"
For one downtown refugee who asked not to be named, the cozy scene was reminiscent of the shuttered Beatrice Inn. "There is zero embarrassment about doing coke in the bathroom," he said. "Just out there, like, literally." East Village resident Ilona Struzik, 22, made her Carlyle debut in a Catwoman costume, complete with leather catsuit. "All the best parties were canceled yesterday," the aspiring actress and student explained. "I didn't want to waste it."
For some neighbors and regulars, the nomadic crowd — sporting five-day beards and floppy hats over greasy roots — were unwelcome arrivals in the Madison Avenue enclave.
"This is what Occupy Wall Street was like," Matt, 27, who works in finance, said to a table of friends, "an assortment of randomly dressed people. It's funny how they all knew to come here."
In the case of one young Tribeca evacuee, his hair blown into a six-inch bouffant, it was more of a homecoming. "My parents live here," he confessed. But there would be no after-party in their suite. "We don't get along. There are some issues."
The influx of dead zone denizens was not without drama.
When BookTrack publisher Brooke Geahan urged a young woman who was loudly berating an overwhelmed bartender to relax, the woman snapped back, "I wasn't talking to you. You're a loser." After another screaming match broke out (this one over the $15 cover charge), Sam Goldberg, a 27-year-old film producer wearing a knit watch cap, made a peace offering on behalf of the arrivistes. "I would like to buy you a drink," he said to the bartender, Tim, who politely declined.
A little after midnight, a woman in a pork pie hat was dragged out of the hotel by friends, screaming and thrashing. "That was my girlfriend," the bespectacled, bearded, French-accented object of her fury explained. "I am really not in the mood for this."
By then the bar was closing and some were headed to a pop-up outpost of the Flatiron tiki bar Riff Raff's on 54th and Lexington. Designer Prabal Gurung walked back to the Mark hotel across the street, where grown-up fashion scenesters Anna Wintour, Thom Browne, Marc Jacobs, and Lorenzo Martone have been spotted post-Sandy.
"I don't know if the Carlyle is as good as the Mark," said Gurung, who fled his Soho apartment for a midtown hotel earlier this week. "The Mark is the place."
Still, displaced partiers continued to turn up outside the Carlyle. Bernard, the doorman, had to physically stop several people from entering, drawing a fusillade of familiar downtown refrains.
"But I have a table!" cried one model.
"There's no humanity, no humanity, no humanity," said one drunk woman whose friends were still inside.
"So aggressive," whined a floppy-haired man in striped scarf and blazer upon getting shut out. "It's like downtown has moved uptown."